More pictures, stories can be found in the print edition of The Provost News, April 19, 2017 including:
• Have 'Face-to-Face Communication With Your Kids' Technology Speaker Tells Parents
• Olympians Justin Snith and Tristan Walker in Town
• Area Schools Have Different Rules for Electronic Devices
• An Early Spring Would Help Farmers, Says Writer
• Employment/Careers

• Lucie Trutnau Remembers the Old Movies
• Work Progresses at Museum

Get details of these and other stories by subscribing to The Provost News Click here or call 1-780-753-2564.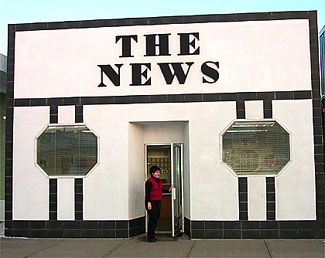 ---
Established March 10, 1910
---
This building which houses
The Provost News has been a media icon
on Provost's Main street since 1946.

---
This award winning newspaper is
owned and operated by
Holmes Publishing Co. Ltd.
Provost News
5111-50th Street
Box 180, Provost, AB, T0B 3S0, Canada
RICHARD C. HOLMES - EDITOR
Street Spokesman


This week we ask: "

What Should Be a New Olympic Sport?"


. . . and readers heard answers from and readers heard from Andro Devos, Colby Carter, Haiden Livingston and McKinley Anaka. Check out the April 19, 2017 print edition of The Provost News for their responses.
Want to Subscribe to The Provost News? Click here.