More pictures, stories can be found in the print edition of The Provost News, January 17, 2018 including:
• New Year's Baby Arrives at Provost Health Centre

• Man Celebrates 101 Years

• Volunteer Students Lead Province in Fundraising Program for Canadian Cancer Society
• Letter Writer Wants Government That Stays Out of Debt, Holds the Line on Taxes and Leaves People Alone
• Employment/Careers

• Woman Enters 25th and Final Year as Volunteer Pastor in Ribstone

Get details of these and other stories by subscribing to The Provost News Click here or call 1-780-753-2564.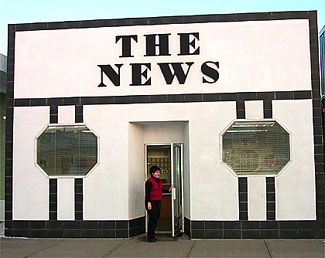 ---
Established March 10, 1910
---
This building which houses
The Provost News has been a media icon
on Provost's Main street since 1946.

---
This award winning newspaper is
owned and operated by
Holmes Publishing Co. Ltd.
Provost News
5111-50th Street
Box 180, Provost, AB, T0B 3S0, Canada
RICHARD C. HOLMES - EDITOR
Street Spokesman


This week we ask: "

What Do You Look Forward to When You Wake Up?"


. . . and readers heard answers from Naoka Blondin, Leo Fleck, Connie Stitt and Terri Christie. Check out the January 17, 2018 print edition of The Provost News for their responses.
Want to Subscribe to The Provost News? Click here.