More pictures, stories can be found in the print edition of The Provost News, September 20, 2017 including:
• Town, M.D., School Board Election Races On

• Fireman Len Kjos Remembered in Ottawa
• Gibsons Gives $200,000 to Hardisty for Rec. Upgrades
• STA School Students Presented with Awards at Ceremony
• Gibsons Plans 1.1 Million Barrel Hardisty Terminal Expansion
• Employment/Careers

• Football Games Hosted in Provost

Get details of these and other stories by subscribing to The Provost News Click here or call 1-780-753-2564.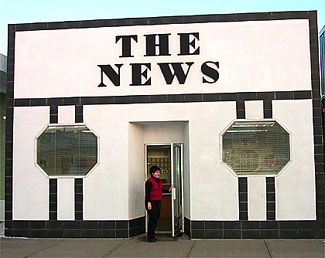 ---
Established March 10, 1910
---
This building which houses
The Provost News has been a media icon
on Provost's Main street since 1946.

---
This award winning newspaper is
owned and operated by
Holmes Publishing Co. Ltd.
Provost News
5111-50th Street
Box 180, Provost, AB, T0B 3S0, Canada
RICHARD C. HOLMES - EDITOR
Street Spokesman


This week we ask: "

What is Your Best Childhood Memory?"


. . . and readers heard answers from Lori-Jean Kostler, Kristen Shewchuk, Kaitlyn Sonmor and Reta Bast. Check out the September 20, 2017 print edition of The Provost News for their responses.
Want to Subscribe to The Provost News? Click here.