More pictures, stories can be found in the print edition of The Provost News, August 9, 2017 including:
• Enbridge Line 3 Pipeline Construction Launched
• Black Pavement Gets White Parking Guides
• Provost Piranhas Compete in Camrose Swim Meet
• Lucie Trutnau in Her Mother's Kitchen
• Employment/Careers

• Carbon Tax "Harming Border Fuel Retailers" Like Provost Says MLA

Get details of these and other stories by subscribing to The Provost News Click here or call 1-780-753-2564.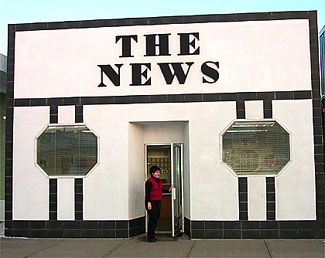 ---
Established March 10, 1910
---
This building which houses
The Provost News has been a media icon
on Provost's Main street since 1946.

---
This award winning newspaper is
owned and operated by
Holmes Publishing Co. Ltd.
Provost News
5111-50th Street
Box 180, Provost, AB, T0B 3S0, Canada
RICHARD C. HOLMES - EDITOR
Street Spokesman


This week we ask: "

What Was Your Best Part of Going to Camp?"


. . . and readers heard answers from Tinsley Leclerc, Sadie Conway-Kennedy, Ayla Sperle and Emerson Thrun. Check out the August 9, 2017 print edition of The Provost News for their responses.
Want to Subscribe to The Provost News? Click here.