More pictures, stories can be found in the print edition of The Provost News, November 8, 2017 including:
• Average Age in Provost is 39.

• New 'Dramatic Changes' Would Place Local Voters into Expanded Drumheller-Stettler Constituency
• Firefighters Remember Man With Memorial Bench
• Forecast for More Drilling
• 375 Pounds of Food Collected at Halloween 'Zombie House'
in town.
• Employment/Careers

• Chauvin Collects Food

Get details of these and other stories by subscribing to The Provost News Click here or call 1-780-753-2564.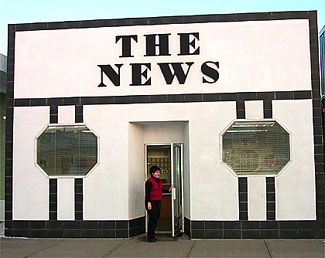 ---
Established March 10, 1910
---
This building which houses
The Provost News has been a media icon
on Provost's Main street since 1946.

---
This award winning newspaper is
owned and operated by
Holmes Publishing Co. Ltd.
Provost News
5111-50th Street
Box 180, Provost, AB, T0B 3S0, Canada
RICHARD C. HOLMES - EDITOR
Street Spokesman


This week we ask: "

Why is it Important to Attend the Remembrance Day Service?"


. . . and readers heard answers from Kim Larson, Gail Gillert, Dan Stuckky and Agnes Whiting. Check out the November 8, 2017 print edition of The Provost News for their responses.
Want to Subscribe to The Provost News? Click here.