More pictures, stories can be found in the print edition of The Provost News, May 17, 2017 including:
• Group Disbands, Gives Away Cash
• STA School Honours 15 Students at Graduation
• People Throwing Garbage in Ditch 'Ignorant and Uncaring'
• Repsol Gave $90,000 in Chauvin Area Last Year;
—Automated Pipeline Leak Detection System to Be Expanded
• Employment/Careers

• 4-H Presenter Earns First Place at Provincial Level
• Columnist Looks at Baking

Get details of these and other stories by subscribing to The Provost News Click here or call 1-780-753-2564.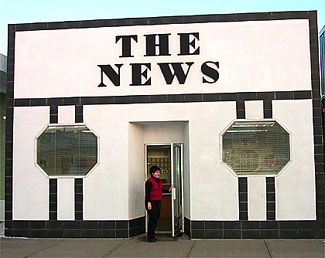 ---
Established March 10, 1910
---
This building which houses
The Provost News has been a media icon
on Provost's Main street since 1946.

---
This award winning newspaper is
owned and operated by
Holmes Publishing Co. Ltd.
Provost News
5111-50th Street
Box 180, Provost, AB, T0B 3S0, Canada
RICHARD C. HOLMES - EDITOR
Street Spokesman


This week we ask: "

Should Marijuana be Legalized?"


. . . and readers heard answers from and readers heard from Harry Nickel, Wayne Carroll, Teresa Gregory and Len Ward. Check out the May 17, 2017 print edition of The Provost News for their responses.
Want to Subscribe to The Provost News? Click here.