Making the Grade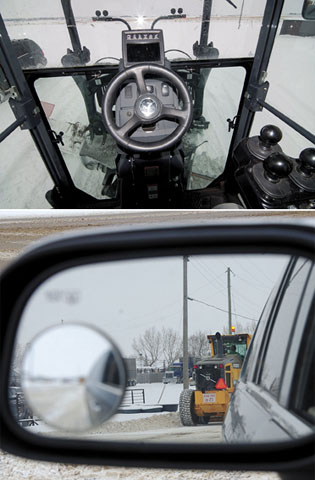 If you're in the driver's chair of an M.D. Provost No. 52 grader this is the view (top) you'd get while clearing snow at the airport—or on other rural roads. The model 872 GP 43-164 has eight speeds, uses a six-wheel-drive configuration and has 300 horsepower available. Photo above meanwhile shows a Town of Provost grader after a recent snowfall with Keith Heintz at the controls as seen via a vehicle's mirror. ©Provost News Photos.

More photos in the November 15, 2017 print edition of The Provost News.
Want to Subscribe to The Provost News? Click here.
---
More pictures, stories can be found in the print edition of The Provost News, November 15, 2017 including:
• Fire Hydrant Damaged

• Oilfield Equipment Worth $45,000 Stolen
• Community Pays Tribute to Veterans for Sacrifices
• British Roots Dominate Population Across MD
• Provost Man Competes at Rodeo
• Employment/Careers

• Bowling Centre Busy

Get details of these and other stories by subscribing to The Provost News Click here or call 1-780-753-2564.



---
Protected Area a Refuge for
Special Plant, Animal Life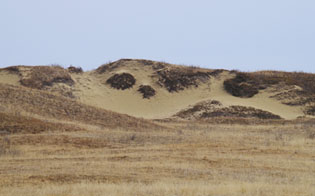 A sign by a graveled road in the Suffern Lake (Sask.) area west of Alberta's Dilberry Lake and Chauvin, Alta. and south of Marsden, Sask. warns people of an environmentally sensitive region called the Manitou Sand Hills (above) Integrated Resource Management Plan Area. According to a Saskatchewan publication called The Diverse Landscapes of the Manitou Sand Hills presented by the Manitou Sand Hills Standing Committee (April 2014): a major feature of the area is the fine sands formed into stabilized and un-stabilized dunes in the strongly rolling topography. These dunes are up to 18 meters high and 0.8 km long, and lie in east-west rows. Several unusual plants are associated with these active dunes. Meanwhile the south shore of Manitou Lake (not shown) contains some "very unusual stromatolite-like formations". Stromatolites are layered accretionary structures formed in shallow water by the trapping, binding, and cementation of sedimentary grains by biofilms of microorganisms. "Globally, they provide some of the most ancient records of life on Earth by fossil remains which date back to more than 3.5 billion years. Formations occur widely in the fossil record of the Precambrian, but are rare today." The Manitou Sand Hills, which comprises 105,000 acres of Crown grazing land near the Alberta border is one of the largest areas of its kind remaining in Saskatchewan. ©Provost News Photo.

More photos in the November 15, 2017 print edition of The Provost News.
Want to Subscribe to The Provost News? Click here.
---
Street Spokesman


This week we ask: "

What Does the Tooth Fairy Do With All Those Teeth She Collects?"


. . . and readers heard answers from Meagan Deleff, Usman Mahmud, Brenna Werenka and Parker Ewanchuk. Check out the November 15, 2017 print edition of The Provost News for their responses.
Want to Subscribe to The Provost News? Click here.
---
This, along with many other stories and pictures can be found in this week's edition of The Provost News.
Subscribe to the award winning paper by clicking on this link and following the instructions on our secure on-line ordering centre.
Take me to the Secure On-Line Ordering Centre. Click here.

---


(Please note, only one vote per internet service provider is allowed. View results first, then vote to see your tally reflected by viewing again)

Message from the Editor
The Provost News editor gives you quick look at some of the new features on provostnews.ca
---
Submit News, Letters, Photos
Information on submitting news stories, Letters to the Editor, and photos to The Provost News.
---
Advertising Your Message
For information about advertising in the paper, or on the web, click here.
---
Professional Websites
Information about getting a professional website for your business.
---
Subscriptions
Subscribe or update your mailing address here.
---
New to Provost?
Let us give you a quick tour of your new community.
---