Honey Harvest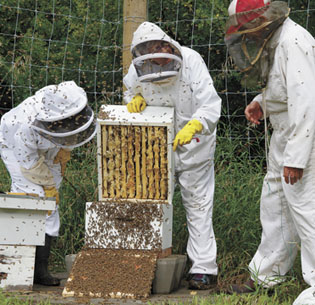 It was honey harvest time for one of the local beekeepers, Ruth Holmes (left) who called on veterans Lorraine Rutledge (centre) of Wainwright and Willy Kelch who lives northeast of Czar who had made several stops to the acreage before this event over the summer. Holmes, along with husband Rich started their first season on May 5 with a purchase of 10,000 bees and one queen—which mushroomed to an estimated 45,000 to 55,000 bees when the fresh honey was extracted on August 17 a few miles east of Provost. Though the bees generally have a lifespan of less than one month, the queen lives up to two years and produces on average 1,500 eggs per day. The bees were raised as an experiment to see if local garden produce is affected. The garden, using nearly an acre, produced the most prolific vegetables since it's been attended to over the last 36 years. ©Provost News Photo.

See inside the print edition of The Provost News, August 24.
Want to Subscribe to The Provost News? Click here.

More pictures, stories can be found in the print edition of The Provost News, August 24, 2016 including:
• Piranhas Swimmer Earns Gold at Provincial Championships
• Employment/Careers
• M.D. 52 Council Amends Bylaw, Rezones Land
• 1954 Car Triumphant After it's Re-built . . . Visits Here
• Birds & Bees Help Garden Grow
• New Parking Lot Under Construction at Provost Fire Department

Get details of these and other stories by subscribing to The Provost News Click here or call 1-780-753-2564.
---
Older Models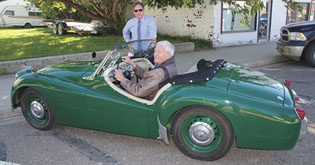 Former north Hayter resident Dave Pegg took his restored 1954 Triumph TR2 for a road trip from Edmonton and showed up on Main Street in Provost on August 19. A passerby, Leighton Ringrose (above) stopped to admire the vintage automobile and noted that he was born the same year as the car. Pegg, who is 71 noted that it took him and three hired professionals two years to restore the car. One of those hired to restore the car coincidentally was Ken Miles of Edmonton whose father Lorraine was born in Provost—and his father Bill Miles had the dray service in town and was the man with a team of mules who pulled the Linotype out of a burning Provost News building on Main Street in March 1946. This green Triumph left the factory on May 26, 1954 in England before the design of the car doors were changed. The car originally sold for $2,495 but Pegg noted he paid "considerably more" than that for the re-building of all parts. It's a four-speed with an overdrive. ©Provost News Photos.

See inside the print edition of The Provost News, August247.
Want to Subscribe to The Provost News? Click here.
---
Street Spokesman


This week we ask: "

If You Could Try Out Any Job for a Day, What Would You Like to Try?"


. . . and readers heard answers from Joanne Dewan, Peter Bobryk, Sharnell Wick and Marcie Wilkes. Check out the August 24 edition of The Provost News for their answers.
Want to Subscribe to The Provost News? Click here.
---
This, along with many other stories and pictures can be found in this week's edition of The Provost News.
Subscribe to the award winning paper by clicking on this link and following the instructionson our secure on-line ordering centre.
Take me to the Secure On-Line Ordering Centre. Click here.

---


(Please note, only one vote per internet service provider is allowed. View results first, then vote to see your tally reflected by viewing again)

Message from the Editor
The Provost News editor gives you quick look at some of the new features on provostnews.ca
---
Submit News, Letters, Photos
Information on submitting news stories, Letters to the Editor, and photos to The Provost News.
---
Advertising Your Message
For information about advertising in the paper, or on the web, click here.
---
Professional Websites
Information about getting a professional website for your business.
---
Subscriptions
Subscribe or update your mailing address here.
---
New to Provost?
Let us give you a quick tour of your new community.
---