Shop Damaged by Fire During Night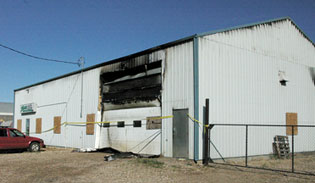 Zane's Mechanical shop after fire damaged it. Story in this week's paper. ©Provost News Photo.
Fines—or Even Jail Time Written Into New Bylaw as False Alarm Calls Escalate in Town
All three readings for a new false alarm bylaw were passed by the Town of Provost council on August 16.

The town states that if an alarm system triggers a false emergency call that a penalty of $250 will be imposed for first offences for
residential premises and subsequent fines of $500.

If the alarm comes from a business premises the first offence is $500 with subsequent fines of $1,000.

Town administrator Judy Larson says this bylaw (07/2011) was enacted after RCMP had discussions with the town.

In lieu of prosecution, the person named in the violation ticket/tag may voluntarily make payment to the Town of Provost for the penalty amount. If the payment is not paid in the time required, a prosecution may be taken for the alleged contravention.


The bylaw names emergency services including the fire department, the RCMP, ambulance and emergency dispatch.

Part of the bylaw reads: " . . .7) Except as otherwise provided in this bylaw, a person who is guilty of an offence under this bylaw for which a penalty is not otherwise provided, upon summary conviction before a court of competent jurisdiction, shall be liable to a fine of not more than $2,500 or in the event of non-payment of the fine, imprisonment for a period not exceeding 90 days unlesss such a fine is sooner paid."

False alarm is partially defined in the town's bylaw " . . . respecting the existence of a condition, circumstance or event containing an imminent serious danger to persons or property, where no such condition, circumstance or event exists. See conditions on Schedule "A" attached".

The by-law goes on to state a waiver that "i) any false alarm which the occupant or 'key holder' can demonstrate was caused by a storm, lighting, fire, earthquake or act of God; or ii) any false alarm which the occupant or key holder can demonstrate was not caused by lack of due diligence; or iii) any false where as the fire chief, Royal Canadian Mounted Police, and peace officer can waive the cost of response."

Provost RCMP Sgt. Tom Vanderzwan wrote The Provost News regarding the alarm bylaw that he said pertains to the Town of Provost only. "In 2009 we responded to 81 alarm calls, none were actual break and enters."

Last year (January 1 to December 31, 2010) Provost RCMP responded to 94 alarm calls; three of these were actual break and enters to businesses while the remaining 91 ended up being false alarms.

This year (up to September 1) there have been 43 alarm calls, but none were actually break and enters added Vanderzwan.
Full story in September 7edition of The Provost News.
Want to Subscribe to The Provost News? Click here.