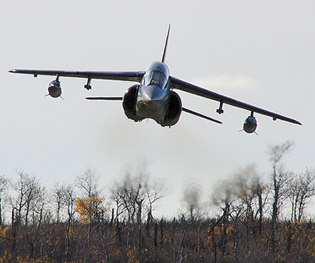 A jet makes a low level—but high speed appearance at 400 knots over the heads of troops at the Canadian Manoeuvre Training Centre field south west of Wainwright.

The troops had been watching a display of powerful M777 howitzer shelling before the jet suddenly appeared unannounced. Another 14 photos of the military training in the October 19, 2011 edition of The Provost News. ©Provost News Photo.
Live Shelling Using Howitzer Guns Part of Month Long Military Exercise
Large howitzer guns firing shells weighing 98 pounds each and capable of hitting a target 24 kilometers away have been one of the attractions at a gun line for visiting Petawawa, Ontario troops sharpening their battle skills while at the Canadian Manoeuvre Training Centre field south west of Wainwright.

There are 3,000 troops being drilled while another 1,000 soldiers such as drivers, cooks and mechanics are supporting the others. Approximately 900 vehicles are being used for the exercise.

The practice range borders on the M.D. Provost No. 52 with part of it jutting also into the north western M.D.

The exercise, called Maple Resolve has been running since October 1 and winds down on October 28.

The Provost News was invited by Lt. Bonnie Wilken, public affairs officer at the Canadian Manoeuvre Training Center to tour the exercise, focussing on the artillery operation and escorted by Petawawa Capt. Sally-Ann Cyr, public affairs officer for National Defence.

Meeting first at 6:30 a.m. and following a hot breakfast with other troops, it was a bumpy drive through the back country to the early morning firing line where other soldiers were also invited to get a first hand look at the shooting of the 155 mm shells. The purpose of the invitation to others who aren't normally aware of that type of activity was so that they could see some of the work first-hand and understand better what they are dealing with. Those visiting that day included medical people, (some of whom got a turn to fire the giant guns) media and a military lawyer from Ontario. Two M777 guns were in action at that site and the visitors were split into two groups—one group for each demonstration site so a close look could take place. Everyone was handed ear plugs and warned where to stand when the lanyard (a type of rope tied to the gun's triggering mechanism) was pulled by those being trained—and guests who wanted to try that out.
Rest of story in October 19 edition of The Provost News.
Want to Subscribe to The Provost News? Click here.