In Good Humour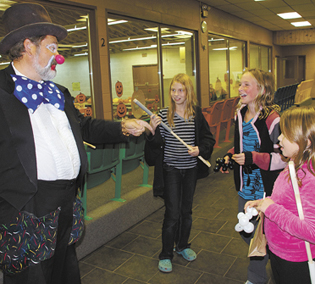 Clown Rosco Krawece (left) who was blowing up balloons for those taking in the Pumpkin Festival at the Farmers' Market recently made his magic come to life as shown by the look on the girls' faces—who were feeling a little funny. Krawece, who is from Big Valley, Alta. can sometimes be found entertaining on a locomotive steam engine train operating out of Stettler. ©Provost News Photo.
Local Man to Run for Wildrose
Dave Nelson is one of four candidates who wants to represent this riding for the Battle River-Wainwright provincial constituency.

Nelson, who will soon be 47 years old told The News that he has been involved with the Wildrose Alliance Party since 2009 and is "frustrated" with the Conservative party in power, particularly with Bills 24, 36, 16 and 50 which concern farm owners. He says the Wildrose is a "grass roots" party.

The Metiskow man has not run for provincial office before.

Paid up members of the party as of October 21 can vote through a mail-in ballot sent out on October 25 with results counted on November 25. Nelson, who is a school trustee for Buffalo Trail Public Schools and a fourth generation farmer living north of Metiskow is "very excited about Wildrose and Danielle Smith" . . . and Nelson is interested in fighting for property rights ". . . it's a big issue for me."
Rest of story in October 12 edition of The Provost News.
Want to Subscribe to The Provost News? Click here.