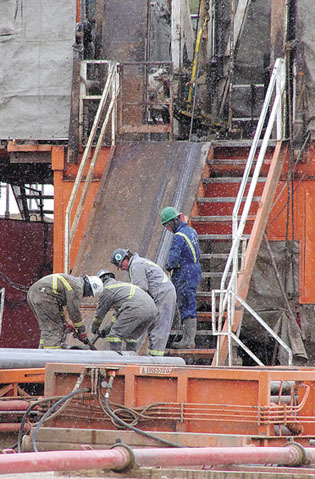 Snow appears while this drilling crew works looking for potash north east of Provost on Friday afternoon, November 4. The Ensign drilling rig number 521 is being used by Grizzly Discoveries Inc. and Pacific Potash Corp. in a joint search at a farmer's field which could lead to a new industry in Alberta (see PN Nov. 2). Potash is an essential ingredient of fertilizer which is growing in demand as world populations expand. ©Provost News Photo.
Two Firms Now Drilling for Potash
Grizzly Discoveries Inc. and Pacific Potash Corporation are working on their "50:50 Provost Property" northeast of Provost, Alberta drilling their first joint well in a quest to find a commercial grade and quantity of potash to market.

The mineral rights for this Provost property are owned by Grizzly and Pacific Potash with the initial potash exploration drilling on the property funded by Grizzly and Pacific through 50 percent interests.

The drilling rig has been working in a field at 10-11-40-1W4.
This exploratory well and the 1,460 metre well just completed by Pacific at its 100 percent-owned Provost property, south of the jointly owned 50:50 Provost property, are believed to be the first exploratory wells drilled in Alberta to test specifically for potash (see PN Nov. 2).

Darrell Tupechka, wellsite operations supervisor for The Barlon Engineering Group (Calgary) told The Provost News that they were at a depth of 1200 metres on Monday morning, November 7. He estimated that they would be done drilling this well on Friday, November 11.

Lee Ewert of Dahrouge Geological Consulting meanwhile said that once cores from this site are examined by the end of this week a decision will be made about possible future drilling.

Within the region and underlying the 50:50 Provost property lies the potash-bearing Patience Lake Member of the Prairie Evaporite formation. The Patience Potash Member is anticipated to range from three to 10 metres thick, at depths of 1,300 to 1,450 metres. It is anticipated that drilling of the exploratory well at the 50:50 Provost Property would require between seven and 10 days to complete and geophysically log.
Rest of story in November 9 edition of The Provost News.
Want to Subscribe to The Provost News? Click here.