World Class Curling Team
Instructs Students in Chauvin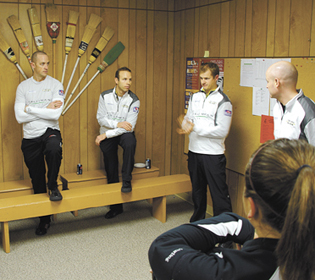 From left: Nolan Thiessen, Dr. Pat Simmons, Carter Rycroft and Kevin Koe (skip). ©Provost News Photo.

Full story in November 30 edition of The Provost News.
Want to Subscribe to The Provost News? Click here.
Nelson Wins Wildrose Candidacy
Dave Nelson of Metiskow won the Wildrose Alliance Party candidacy for the Battle River-Wainwright provincial constituency on November 18 in Calgary.

Also running were Rob Johnson of Daysland, Sean Maciborski of Heisler and Tom Jackson of Killam.

After the third ballot Nelson won with 61 percent of the vote followed by Maciborski with 31 percent. Johnson was dropped after the second round and Jackson after the first.
There are approximately 734 Wildrose members in this constituency with 554 people voting in a recent mail-in ballot. There were no spoiled ballots.

Nelson, 47, appeared excited after his win and for the possibility of the Wildrose party in Alberta. "There is lots of work ahead of us going against the Conservative government that has been in power since 1971."

Nelson, a rancher, is concerned with property rights.
He has been a director on provincial and federal boards and is not happy with the way the ruling Conservatives have been operating. He says that he is now with a party where the grassroots can bring policies right to the floor.

Changes Nelson would like to see include: "the people running the province", not the cabinet; cleaning up all levels of provincial politics by giving the auditor more power and accountability; and property rights.



Campaigning for the provincial election that he expects in 2012 will now start by working on the west and north part of the riding so that the people can get to know him. A fundraising event is scheduled for January 23 at Killam with Wildrose leader Danielle Smith attending. Training seminars for candidates will be held in February.

Currently serving as MLA in this constituency is Progressive Conservative Doug Griffiths.

As a Buffalo Trail Public Schools trustee, Nelson has two years left in his term. He can stay on as trustee unless he is elected to the legislature —but may take a leave of absence after a provincial election is called to help facilitate campaigning.

The Metiskow man is unhappy with Alberta land Bills 19, 24, 36 and 50 that he says takes power away from the people and puts it into cabinet. Bill 50 has also taken away all the power from the Alberta Utilities Commission he claims—and he has just received a notice regarding an upgrade to a power line by his house.

He also told The Provost News in an interview that he is disappointed that Premier Alison Redford did not keep her promise to have set election dates.
Rest of story in November 30 edition of The Provost News.
Want to Subscribe to The Provost News? Click here.