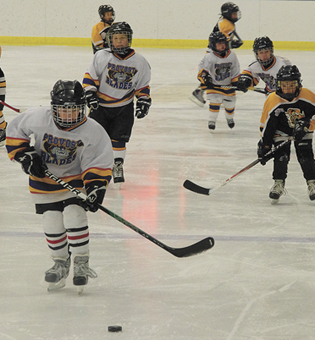 A Provost Novice hockey player gets control of the puck and prepares to circle back towards the Vermilion net during action at Crescent Point Place. ©Provost News Photo.
Not Much Global Warming for W. Canada This Winter—Forecast
• Coldest in 20 Years for Western Provinces
It's going to be a cold winter across a chunk of western Canada according to AccuWeather.com reports.

Several arctic air masses should come down through British Columbia and Alberta meaning that Provost and north to Edmonton and area will likely be in the deep freeze for the fifth consecutive winter.

This winter could be one of the top three coldest winters in the past 20 years for Vancouver and Victoria, British Columbia.
"Most of the winter will be fairly typical from the St. Lawrence Valley region to the Greater Toronto area" AccuWeather expert senior meteorologist Brett Anderson said. "However, I do expect one or two major snowstorms to affect the region."

For Ontario, Toronto and Montreal, there will "certainly be a couple of blasts of arctic air coming down" to freeze the region, Anderson said. "That's typical of a La Niña, but (arctic blasts) don't last very long; they come and they go." There's "certainly going to be some bitter cold coming down there in the middle of winter."

La Niña is a phenomenon that occurs when sea surface temperatures across the equatorial central and eastern Pacific are below normal. The phenomenon often produces extreme cold outbreaks across western Canada during the winter due to the influence it has on the jet stream. Snowfall tends to be greater across Ontario and Quebec in a La Niña winter, while there's almost always unusually dry winter weather along the West Coast during weak and moderate La Niñas.

"Strong La Niñas can lead to wet winters along the West coast, but I am predicting a moderate La Niña this winter" Anderson said.

Across the country, "it's almost a given" that northeastern Canada will have a milder winter compared to normal. One reason for this will be the slow return of sea ice.
• What About The Snow?
You'll see some forecasts predicting a cold, snowy winter in British Columbia, but Anderson said "it's either one or the other." Cold air doesn't hold moisture very well. If it's going to be snowy, especially in western parts of British Columbia, "it's usually not going to be terribly cold, especially in the mountains."

The past 10 to 15 winters have been drier than normal across the Prairies, and that's likely to be the same across a large part of the region this winter. The exception, though, is southwestern Alberta, which is good news for the winter sports enthusiasts there.
Rest of story in November 23 edition of The Provost News.
Want to Subscribe to The Provost News? Click here.