Provost Masons Mark Centennial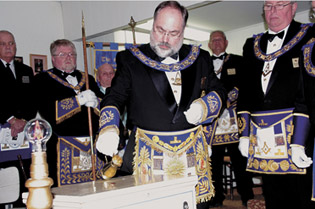 Grand Master Gerald Waldern of the Grand Lodge of Alberta and his officers help Provost Masonic Lodge celebrate its 100th anniversary on Saturday afternoon, April 30 by first symbolicly sprinkling corn, then pouring wine and (above) oil near the open Holy Bible (not shown). A special reconsecration meeting was held in Edgerton since that is now where Provost holds its monthly meetings in co-operation with the Edgerton Lodge members. More photos of the event in this week's paper. ©Provost News Photo.
Provost Woman 3rd in National Newspaper Photo Competition
A Provost woman was awarded third place in the 2011 Canadian Community Newspapers Association photo category.

Winners were announced on April 29 at the River Rock Casino Theatre in Richmond, B.C.

Sheila Mear-Hauck's photo—entered this past winter by The Provost News, took third spot in "Class 2111 - Best Spot News Photo Coverage, circulation under 4000." Her picture was of News editor Rich Holmes after he fell backwards into the hot tub at the new swimming pool in Provost during the Piranhas swim meet last August.

Mear-Hauck does not work at the newspaper and was a spectator nearby with her camera when the unplannned dive took place.

Publishers, editors and reporters from across the country came together to honour the very best in the community newspaper industry at the 2011 Canadian Community Newspapers Awards April 29 and 30. The awards were presented during the awards gala, hosted by famed columnist Arthur Black. Taking first place in that photo competition was Cody Storm Cooper, of the Beacon Star, Parry Sound, Ontario and second place was Stephanie Lange, of the World-Spectator, Moosomin, Sask.

Rest of story in May 4 edition of The Provost News.
Want to Subscribe to The Provost News? Click here.