Special Area Improvement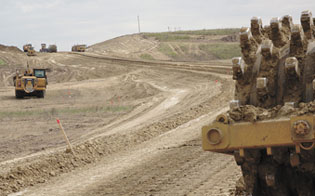 Heavy road equipment is on the job south of Provost in Special Areas 4 where upgrades and changes are being made to a stretch of road. Construction foreman Jeff Vold of Consort says 13 men are working on the project. They have a mobile camp set up south of Irvin Klein's residence. The project began on May 2 and is expected to finish about mid-July. The crew will do an estimated four miles of construction this year and more next year. The road, which will remain 10 metres wide will be upgraded to Highway 12 the following road building season. Work will include laying down a cement base with a chip seal put on in 2012 and finished in 2013. The re-build of the high traffic road will also have sharp curves smoothed out that should improve vision for motorists on the school bus road. Equipment being used includes five scrapers, two graders, an 8-15 packer Cat self propelled, a D7 Cat and a water truck. This picture which shows a new stretch of road replaces a section to the left that is not seen here and was taken 28 km south of Provost (8.4 km south of 899 where that road turns east towards Bodo). The project will be paid for by ratepayers. ©Provost News Photo.
Former Residents Lose Homes in Wildfire
Seven families with ties to Provost and district have been severely affected by the devastating wildfire at Slave Lake on Sunday, May 16 that burned homes and businesses.

Darin and Dee Busk lost their home and possessions in the fire. The house was a 1,200 square foot split bi-level built in 1994 and house and contents were valued at approximately $600,000. They have lived in Slave Lake since 2002 and were insured. Darin used to be the recreation director at Provost.

On Saturday, May 15 there were two fires burning outside of Slave Lake with heavy smoke in the air. The Busks had packed a few of their possessions but by Sunday morning the wind had died down and it looked good as there was no smoke. Water bombers and helicopters could be heard flying overhead. Sunday afternoon the winds picked up to 100 km/h grounding the water bombers.

Darin is a town councillor and was attending meetings while Dee was at home with their children Tyler and Kayla both 13. Dee was not told to evacuate but left with her children and two dogs because the smoke was already very thick and dark. Trees were on fire on the street they lived on and Kayla looked back as they drove away and noticed a church and her friend's house already on fire. They went to a Wal-Mart parking lot where others had gathered and left about 8 p.m. on the highway to Athabasca. Also adding to the chaos was the cell phone service was hit and miss so they had no guaranteed way of communication with the power also out.

There was a long line-up of people trying to get out and when the police started to direct traffic the line began to move quicker. Fire was on both sides of the ditches as they drove. Dee, Tyler and Kayla are now making their home between Lloydminster where Dee is originally from and Cliff and Donna (Darin's mother) Haggerty's north of Provost. Darin is still in Slave Lake.

Rest of story in May 25 edition of The Provost News.
Want to Subscribe to The Provost News? Click here.