Track & Field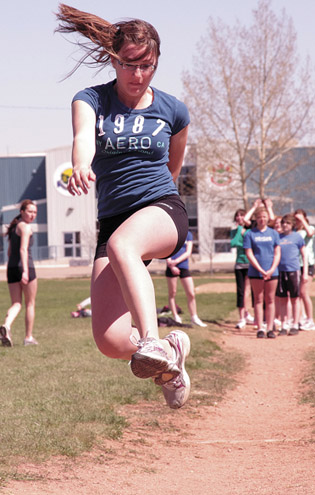 Others await their turns behind as this girl gets some air time at a track meet held in Provost on Thursday, May 12. Both St. Thomas Aquinas and Provost Public schools took in the annual event. ©Provost News Photo.
Technology, New Markets Are Key to Energy Growth —Speaker
'The Real Labour Crunch Has Not Yet Hit Alberta'
The president of the Alberta Enterprise Group told Provost residents that technology and opening up new Asian markets particularly with a proposed Enbridge Inc. pipeline project through B.C. to a deep water port are key strategies to expand the province's energy customers.

Tim Shipton who heads up the Alberta Enterprise Group (AEG) was brought to town by the Provost and District Chamber of Commerce and the Provost/Macklin Oilfield Technical Society on Wednesday, May 11 where he addressed 10 people at the Prairie Hall's Alberta Room. He was accompanied by campaign co-ordinator for the AEG, Colleen Houston of the Canadian Association of Petroleum Producers (CAPP).

The non-profit AEG is made up of Alberta businessmen who employ over 50,000 people and generate several billion dollars in economic activity annually.

He sees his and others mission as "telling the story" to leaders and decision makers about the importance of the energy industry in the economy and how vital it is as a "foundational element."

Shipton told the audience that there is a lot of misinformation about Alberta and its oil operations but noted his group is not afraid of legitimate scrutiny. His group travels the nation and goes to other countries to bring correct information to other groups and politicians. Their next trip for a "Canada Connects Mission" trip will be to Washington, D.C. the end of this month to talk to U.S. political leaders about the oilsands and what the province can offer.

Rest of story in May 18 edition of The Provost News.
Want to Subscribe to The Provost News? Click here.