King of the High Cs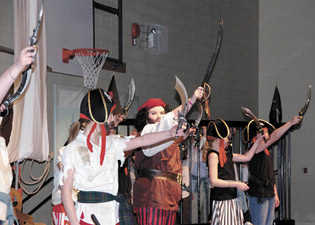 With cutlasses in hands, pirates took over the stage at Provost Public School—twice in one day as Blackbeard, Bluebird, Whitebeard—and other characters entertained landlubbers on Wednesday afternoon and evening, May 4. Pirates! The Musical was performed by the P.P.S. Drama Club where they taught the three aaars. ©Provost News Photo.
Arena to be Demolished
The old Provost arena will be torn down this summer at a cost to the town of $94,300 plus tax.

A decision to demolish the arena was made at the April 19 town council meeting.

The swimming pool right beside the arena has already been dug out and covered over.

It has not yet been decided what will happen to the land that the pool and arena have occupied. Before the pool and arena was built the area was a large playground.

Before the arena is taken down an ice plant will first be removed which has been put up for sale says administrator Judy Larson.

Apparently the large wooden arches will not be saved because of the cost. It is unknown how much each of the wooden arches weighs.

McColman & Sons Demolition Ltd of Edmonton were awarded the demolition tender.

The old arena was last used for skating on March 24, 2010 and the new one at Crescent Point Place had skaters on the ice for the first time on Sunday, October 2, 2010 (see PN Oct. 6, 2010).

Rest of story in May 11 edition of The Provost News.
Want to Subscribe to The Provost News? Click here.