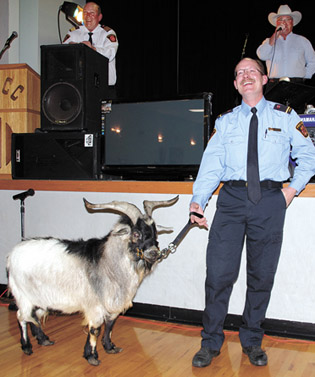 Getting Their Goat
. . . Leads to One More Thing
A live goat was auctioned off at the firemen's ball held Saturday night, February 26 in Provost. Here Hugh Baier holds the animal steady as auctioneer Jerry Hewson (back right) works his magic and fire chief Barry Johnstone (top left) enjoys the moment. Brian Rehman paid $3,500 for the animal which he then, according to the rules, got to turn over to someone else. His choice: fireman Shane and wife Lisa Beier of Provost who then had to figure out what to do with such a creature. Shane told The News that they found two people who would take it. Rehman (shown in print version of paper) cleans his face after receiving some unexpected wine there and on his clothing from someone shortly after his benevolent deed of donating the animal—and adding to the cash supply given to an ailing fireman in hospital. Story in this week's paper. ©Provost News Photos.
Community Support For Fireman, Family 'Overwhelming'
• Firemen's Ball to be Held Annually
Members of the Provost Fire Department and the community raised cash for a firefighter and his family at a social and auction on Saturday night, February 26 in Provost.

The event was organized after 46 year old firefighter Roy King was diagnosed with cancer. The money will be used for living and other expenses like travel as treatments and hospitalization continue in a city hospital.

A crowd of 450 people was at the Prairie Hall in the Provost Recreation and Culture Centre to support a supper, silent and live auctions, draws and also take in a dance.

When asked about the amount of money raised, fire chief Barry Johnstone told The Provost News on Monday, February 28 that "I do not have a clue and will not know—and don't want to know. All I know it was a fundraiser for Roy King and his family."

After Johnstone welcomed the crowd on Saturday night, he said this was the first firemen's ball in almost 40 years. He explained that King, who joined the Provost Fire Department in 1998: was appointed training officer in 2006 and then gained more fire qualifications; has been instrumental in building the new fire training facility; was diagnosed with lymphoma cancer on May 11, 2010; had surgery May 17 in an attempt to remove a primary tumor but the cancer had spread; was then transferred to the Cross Cancer Institute for treatment of stage 4 cancer; June-October chemotherapy treatments continue; November - December a different type of chemotherapy is given; December 17 a decision is made to do a stem cell transplant in January 2011; more chemotherapy sessions are followed by twice a day injections to promote stem cell growth so the stem cells can be harvested from his body and returned later; he gets a week off to come home to rest; and on January 31 is re-admitted to begin intense high dose chemotherapy followed by the transplanting of his stem cells to rescue his body from the chemotherapy; now it is a wait for these basic cells to grow and multiply and become healthy enough for him to return home; the hope is that with killing off the immune system that the high dose chemotherapy will also kill the cancer cells.

He and his wife Debbie have one girl in university and another at school in Provost. King had been working in the oilpatch as an operator before he became ill.

Complete story in March 2 edition of The Provost News.
Want to Subscribe to The Provost News? Click here.