Swim Meet Held in Provost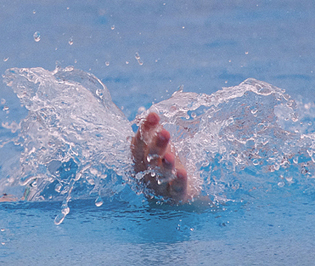 A swimmer reaches up out of the water at the Provost swimming pool as the Piranhas club hosted its annual meet on Saturday. Visiting clubs included: the Castor Tritons, the Forestburg Aquanauts, the Killam Cyclones, the Lacombe Dolphins, the Lloydminster Rebels, the Oyen Otters, the Ponoka Gators, the Vermilion Vipers and the Wainwright Torpedoes. Results in this paper. ©Provost News Photo.
M.D. Celebrates Opening of New Shop
The opening of a new shop for the M.D. Provost No. 52 was celebrated on Thursday, June 23 at noon with a free lunch followed by a ribbon cutting.

Reeve Allan Murray said that they "are proud" of the new shop and added that with the recent economy their dollars spent on the project went further than first expected. He also told the crowd present that the M.D. is working on road projects using a private contractor and they are planning on "rehabilitating" 20 miles of road per year. Murray also spoke about using rock on road that is crushed and not round like a pebble or marble so it can't roll into a ditch. The M.D. he says has a good supply of crushed or fractured rock that "should make a huge improvement" on road maintenance and the time spent on road work.

The reeve also reminded those present of the fire at the M.D.'s shop in Hughenden and the re-building that took place. He talked of the new Provost shop, north of the airport saying that council representatives and employees on the planning stages were trying to anticipate needs of the future and noted that the building was made a little larger than what is needed today. To add on in a few years could cost even more he said. The new multi-use building is large enough to bring big machines inside during the winter if need be, to warm them up overnight.

The building cost approximately $3.1 million with $1.75 million coming from provincial taxpayers, leaving local ratepayers to pay for $1.25 million.

MLA Doug Griffiths said that the province has been aggressive on infrastructure and like the M.D. has done some projects using less money than originally anticipated because of the state of the economy. But he added that the economy is turning around now and is "heating up quickly."

Rest of story in June 29 edition of The Provost News.
Want to Subscribe to The Provost News? Click here.