Dreamland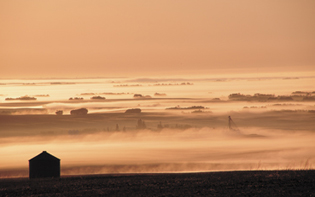 Low-lying cloud covers a vast swath of the countryside early in the morning north of Hayter before the sun gains strength to burn it off. This picture was taken just before 6 a.m. and near the bottom right, part of Rod and Joanne Paulgaard's feedlot operation anchored at 2,139 feet (above sea level) can be seen poking up through the dream-like conditions. This sun drenched orange glow, stretches across the landscape east into Saskatchewan and was seen nearby Holmes's hill a few miles north east of town at an elevation of approximately 2,431 feet. Other altitudes nearby include: Provost Main Street at 2,182 feet, downtown Hayter at 2,172 feet, Battle River Implements at 2,165 feet on the east side of Provost—while on the west side of town near Provost Esso and Fountain Tire the elevation rises to 2,215 feet (660 metres). This compares with downtown Edmonton at 2,192 feet. The Slave River, flowing from northeastern Alberta into the Northwest Territories is Alberta's lowest point at the N.W.T. border at 499 feet (152 metres). The lowest publicly accessible point in Canada is in a tunnel under False Creek, part of a rail-based transit system in Vancouver, at 95 feet (29 metres) below sea level. ©Provost News Photo.
Reports of Child Abduction 'Unfounded' Say RCMP
Reports of a child abduction taking place in Provost are unfounded, say RCMP.

And reports of a child abduction allegedly also taking place earlier in nearby Macklin, Sask. are also without basis.

Const. Corey Hunt told The Provost News in a telephone interview on Thursday afternoon, June 9 that a report was made to police about an incident alleged to have taken place at a school playground at 5:30 p.m. on June 8. The incident was investigated and there were "no facts to substantiate" the incident. No man nor other person was found to be involved with an abduction nor found to be at the playground.

The News had been contacted over the allegations from the public with one person asking for a story about ". . . reports about attempted abduction of a girl in Macklin and now as of yesterday here in Provost."

Hunt says it appears that a rumour began when one of the schools had a partial lock-down for an unrelated incident and rumours then began circulating in Macklin over part of that incident. Apparently part of a rumour about—an alleged—but untrue attempted abduction of a girl at Macklin later made its way back to Provost.

Police report that they fielded "over 20 calls in 20 minutes today (June 9) alone" including police detachments, parents and media from Killam, Consort, Castor, Wainwright, Unity and Edmonton.

Though Provost RCMP say their investigation is over Hunt points out that parents are generally good in educating their children but this is a good reminder that they should know where their children are going, for how long and who with.

But he adds that "Stuff like this could happen, we need to educate our kids on stranger danger." He suggests that maybe young children should travel in pairs. "Don't hold them prisoner but find out what they're doing."

Rest of story in June 15 edition of The Provost News.
Want to Subscribe to The Provost News? Click here.