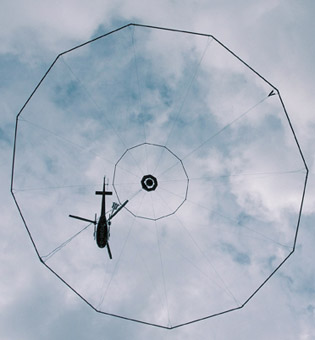 A Geotech Ltd. helicopter piloted by Alex Parra of Vancouver lifts off at the Provost airport on Friday morning, May 27 and flies overhead as a gigantic electronic boom is pulled behind. Three men had been preparing for the electromagnetic surveying the day before and in this photo two of them were in the aircraft doing some test flights before digital mapping under the earth's surface took place near town. Men unloaded 24 barrels of aviation fuel consisting of 205 litres per barrel to keep the helicopter flying over an estimated 900 square miles of land that was to be surveyed over three to four days. The firm uses their specialized 3-D equipment to serve environmental, petroleum—and mining industries. None of the workers at the site would indicate who their client was nor what materials were being searched for. ©Provost News Photo.
Set Goals—and Refer Back, Chauvin Graduation Guest Advises
Graduation ceremonies at Dr. Folkins Community School in Chauvin honoured nine Grade 12 students on Saturday evening, May 28. The theme for the evening was "Live Each Moment Like It's Your Last."

Emcees were Pam Germain and Annette Dallyn who introduced the graduates, escorts and parents as they entered the gym.

After O Canada, which was sung by Emma Huttges, greetings were brought from Buffalo Trail's local trustee Cheryl MacIssac and from Nick Radjuko for the board's executive staff and directors.

Greetings were also brought from Christine Smith on behalf of the village council.

A slide show was enjoyed by the crowd and the pictures featured the early stages of each graduate until Grade 12.

The presentation of the school colours was presented by Brandon Muise and Jake Schopfer to Grade 11 students Kirk Olson and Ty McMann.

Class speaker was Layne Delemont who thanked everyone for organizing the ceremonies. He said that school life at Chauvin provided a "great learning environment" and said that the students also learned life lessons at Dr. Folkins Community School. He quoted from a movie actor saying that students should "listen to your gut and do what you want to do."

Dalton McMann and Kurri Winterholt then read funny instances from over the years about classmates called "Remember When."

Rest of story in June 1 edition of The Provost News.
Want to Subscribe to The Provost News? Click here.