No Politicians Found
Straddling the Farm Fence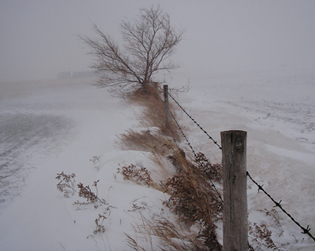 Thousands of Western Canadian farmers figuratively appear to be on one side of the fence while many other thousands are on the other in their opinions regarding the future direction of the Canadian Wheat Board which has marketed grain for decades. New legislated changes now being finalized in Ottawa will mean that the ruling federal government won't be sitting on the prickly wire fence—and selling to the board only will no longer be compulsory when producers send their wheat and barley to market. This picture was taken near Ron Keller's farm north east of town. Story in this week's paper. ©Provost News Photo.

Full story in December 7edition of The Provost News.
Want to Subscribe to The Provost News? Click here.
All Governing MPs Vote for CWB Change—None from Opposition
The Conservative Party of Canada used its majority in the House of Commons to pass legislation that will allow changes in the way local and other Western Canadian farmers will market their wheat and barley.

The third vote on the 'Marketing Freedom for Grain Farmers Act' was passed in Ottawa on November 28.

None of the opposition MPs voted for changes that will be ordered for the Canadian Wheat Board.

Farmers in Alberta Saskatchewan, and British Columbia produce most of the wheat and barley in Canada.

The legislation is now being studied by senators, said MP Leon Benoit in a recent telephone interview from his Ottawa office after the vote. He expects the new law to be in effect by the end of this month, calling it a "basic rights issue."

Currently all Western Canadian farmers, when they want to sell their own wheat or barley must market it only through the Canadian Wheat Board.

The new legislation will mean that farmers will be able to choose to continue to sell their grain through that agency or privately make their own transactions with anyone.

Voting for the new legislation were 166 Conservatives.

Voting against changes to the CWB were all members of: the N.D.P. (102), 34 Liberals, and four members who belong to the Bloc Québécois, and one for the Green Party of Canada. Both the Bloc and Green Party have no official party status in the House of Commons. (A political party must have at least 12 MPs to be a recognized party.)



Benoit said that after the vote, he joined a group of about 60 farmers who had travelled to Ottawa to watch the vote, including five from this constituency and one from near Kirriemuir, south of Provost.

"It was fantastic to have them here representing western barley and grain producers," said Benoit. "It was a real celebration, not only of marketing freedom, but of the return of a basic democratic right to these hardworking Canadians."

He said that it was important for the farmers to celebrate the changes expected.

Not all were celebrating including farmers who had been serving as directors on the CWB and thousands of farmers who had voted to keep the board operations intact.
Rest of story in December 7 edition of The Provost News.
Want to Subscribe to The Provost News? Click here.