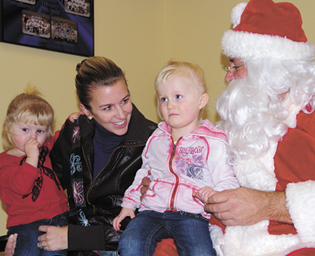 Little one and one half year old Kenzie McGillivray (left) stays close to mom Raegan, while three year old Ryan appears to be thinking about what Santa has to say on Saturday morning. The Provost and District Chamber of Commerce got St. Nick to fly in from the North Pole to Crescent Point Place on December 10 when pancakes and crafts were available to hundreds of visitors. More pictures in this paper. ©Provost News Photo.

Full story in December 14 edition of The Provost News.
Want to Subscribe to The Provost News? Click here.
Electrical Upgrades to Handle Future Needs— Including Wind Farms
An electrical transmission upgrade and development for east central Alberta which is to include parts of this region was explained at an AltaLink open house in Provost.

Most of the power transmission system in the area was built between 50 and 60 years ago.

The plan is to run some new lines—take out other ones and beef up substations for a system that utility visitors to town say is becoming old and near its operating capacity.

The information session was held in the Alberta Room from 4 to 8 p.m. on December 7.

Representatives of the Alberta Electric System Operator (AESO) were also present at the session with information and staff to talk about electricity and future needs in the area.

Consultation with landowners or others who might be affected by the plans or changes were welcomed to ask questions and study maps. Feedback from residents about the proposed project was also being sought from AltaLink.

AltaLink employee Amanda Sadleir along with others explained planned upgrades and showed charts, maps and other information that was available to the public.