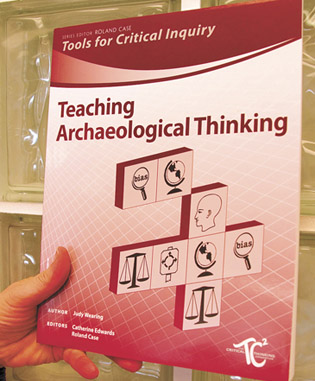 A printed copy of the new school text book called "Teaching Archaeological Thinking" is now off the press and available for school teachers. Different aspects of the Bodo Archaeological site are used as examples at the end of almost every chapter. Story in this week's paper. ©Provost News Photos.
New Book For Alberta Teachers Features Bodo Sites
At a recent Bodo Archaeological Society meeting in Provost, Dan Nash who works for the Learning Network presented all members present with a printed copy of the school textbook called "Teaching Archaeolog-ical Thinking" created by The Critical Thinking Consortium (TC2). The Learning Education Network supported this project.

The educational group was so pleased with what they discovered earlier at Bodo that they featured different aspects of the Bodo site as an example at the end of almost every chapter.

Nash told The Provost News in a recent telephone interview that all teachers in the east central Alberta zone now have access to the book for teaching—but in the fall all teachers across Alberta will be able to use it.

The use of the approximately 100 page book will be optional for all grade levels.

Nash earlier stated that "Incorporating archaeology into classroom teaching is an exciting and authentic way to engage students as historical actors rather than passive bystanders. Most of the story of humans on Earth is prehistory in that it occurred prior to any written record. This is the case for Canada's Aboriginal peoples, as well as many ancient civilizations studied in Canadian classrooms."

Rest of story in April 27 edition of The Provost News.
Want to Subscribe to The Provost News? Click here.