Into the History Pages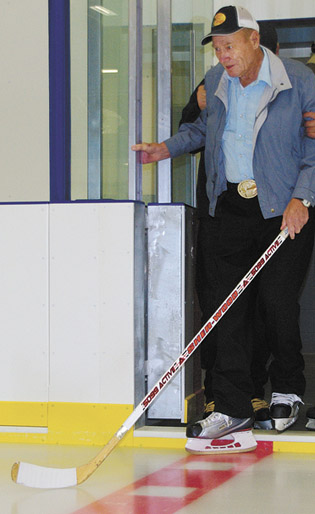 Sig Angeltvedt was the first person on the ice with skates on October 2 since he paid for that honour at a fund raising event earlier. The 81 year old Provost resident and former hockey player said afterwards that it "would have been better if the ice was roughed up a bit" before he went for the skate. Free public skating and hamburgers and other refreshments were offered to those who took in the event on Saturday afternoon. ©Provost News Photo.
Plans Advance for 'Quality' Christian Movie to be Filmed Here
The first draft for a full-length Hollywood film to be shot in Provost and area was completed over the weekend as plans continue on a project headed by actor and film producer Corbin Bernsen of Los Angeles.

Bernsen's company, Team Cherokee Productions will partner with a group of local investors called Provost Film Development Corporation. And says Kim Larson and Bert Roach of the Provost Economic Development Committee, the plan is to raise $450,000 in the area from approximately 20 people. Larson says he expects all the money to be found here and for the investors to make money on the project.

He adds this could be the start of a new industry in Provost. Other movie ideas in Provost may be advanced, depending on the success of this project which calls for shooting in town to begin in February or March.

This is "definitely a family faith based movie . . . PG 13, not transformers and vampires" says Larson who adds that it will have a Christian message.

"There's a huge market for that (Christian theme) in North America" and says the EDC chairman, Sony Pictures—involved with the Provost project—is looking for this kind of movie. "Sony is definitely interested in our movie, big time."

The Provost Film Development Corporation is looking for a minimum of $20,000 from each participant while one person wants to invest $40,000.

A man from Calgary representing Team Cherokee Productions will be in town within a month to look over the community and talk with investors.

In the movie, Provost, Alberta is to be cast as Provost, Alberta but it will be depicted in a type of parallel universe.

The production company will likely be seeking participation from local businesses such as hair stylists, make up workers, general manpower, equipment, carpenters and will also require other goods and services, the two EDC representatives told The News in an interview.

"The goal is to try to create a lasting experience for everybody" says Larson and adds that maybe young people could help design sets and work with cameramen. If filming develops in the community for other projects there could be a place for young people to come back and work in theatre productions. Future ideas being bounced around between Provost and Hollywood include the possibility of a mini-TV series and ideas for other movies.

Complete story in October 6 edition of The Provost News.
Want to Subscribe to The Provost News? Click here.