Money Raised for Juvenile Diabetes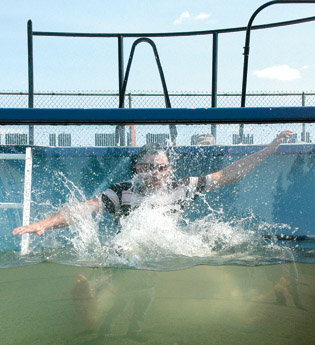 Nathan Braunberger hits the cold water at this dunk tank—and gasps for air a split second after he surfaces near the Agriplex on Saturday, August 29. The fun was held as one way to help raise money for juvenile diabetes research. Other events like games were held inside the Agriplex. ©Provost News Photos.
A Conversation With Robert Bateman
by Writers at The Provost News
On occasion writers at The News may contact people from different places to converse about a variety of topics which may or may not be connected to this area.

Robert Bateman
Occupation: painter.
Age: 79.
Lives at: Salt Spring Island, B.C. where his studio and office are in his home along with wife Birgit.
Where were you born and where did you grow up?
Toronto.

Did you take formal art study?
I won a scholarship as a teenager so took Saturday morning classes in still life painting and I learned a fair amount there. In addition to geography every Thursday night I did life drawing . . . nudes for five years. Then I became the art teacher at Nelson High School in Burlington and a geography teacher with almost no qualifications in that. They were forming departments at the school and I got a choice of head of art or geography. I chose art. It gives you a chance to know the kids better and that decision was the fork in the road. Then I was told by administration to take a couple of summer schools.

How many original paintings and drawings have you done?
I don't know. But publishers have done 650 prints of my major ones. But I've done all kinds of other pieces.


How many copies of your work exist world wide?
I have no idea. Hundreds of thousands . . . I'm not sure. My biggest edition was 32,000 and each one is signed by my hand using pencil (which cannot be forged on a printing press). As I sign each one it's examined for quality. They can copy (my prints illegally) but can't sign my name — that's forgery and the Mounties would come after them.
What countries carry your works?
Canada is my major market, then U.S. and then England, there are no regular dealers in France or Germany but some clients in Germany are after my works. My art has also been sold in Kenya and in Japan some calendars and books in the Japanese language but prints in Japan—famous for its own printmaking have never taken off. I had a major show at the embassy in Japan once in the 1990s.

How many people are employed by you?
Three.

What did your parents do for a living?
Dad was an electrical engineer at Canadian General Electric, while mom was a homemaker coming from Nova Scotia.

Your biggest achievement(s)?
I keep getting touching letters from people . . . my books are used in palliative care centres, they help get some people away from the condition they are in . . . it's impossible to say what my biggest achievement is.
How much time per day do you spend on your work?
I'm painting as we are speaking right now (during the telephone interview). All day every day from 10 a.m. to 10 p.m. except when I'm interrupted.

What are you painting as we speak?
A scene along the Platte River in Nebraska, the great staging grounds of the sandhill cranes. A couple of years ago I spoke at an annual crane festival there. We got up a couple of mornings and got into a blind before sunrise. I work from five to 50 photos as well as sketches I have made, in the average painting.

Complete interview and photo in September 2 edition of The Provost News.
Want to Subscribe to The Provost News? Click here.

Teachers Hired For New School Term
Teachers hired for the 2009/2010 school year include:

Provost Public School
Principal: Robert Walker and assistant principal: Celeste Matovich.
Kindergarten: Cindy Pylypow and Dawn Doetzel.
Elementary teachers: Natasha Werenka, Grade 1; Rita Walz, Grade 1; Myrna Southoff, Grade 2; Kathy Voros, Grade 2; Laureen Clarke-Rennie, Grade 3; Teresa Boerrichter, Grade 3; Elyscha Kleinsasser, Grade 4; Jamie Bishop, Grade 5/6; Carmen Waselick, Grade 5; Michelle Munro, Grade 6; Anita Lawes and Linaya Lessmeister, Special Education.
Junior/Senior High teachers: Melissa Harmsma, Dorene Slater, Fawn Hagen, Colleen Kilkus, Pat Vaughan, Tom Degenstein, Eryn White, Todd Cheram, Brad Pylypow and Chris Tuckey.

St. Thomas Aquinas School
Principal: Brad Wagner and vice Principal Brent Appel.
Julie Bouma, Kindergarten / Junior Kindergarten; Cindy Dallyn, Kindergarten / Special Education; Geralynn Fleck, Grade 1; Melissa Leibel, Grades 1 and 2; Kerry Drader, Grade 2; Loreen Gartner, Grade 3; Bev Yeo, Grade 4; Jeremy Cairns, Grade 5; Sheldon Tameling, Grade 6; David Stang, Grade 7 Homeroom; C. Fran Stang, Grade 8 Homeroom; Glenice Cooper, Grade 9 Homeroom; Dwayne Coffey, Grade 10 Homeroom; Elaine Willette-Larsen, Grade 11 Homeroom; Tylene Appel, Grade 12 Homeroom.

Rest of story in September 2 edition of The Provost News.
Want to Subscribe to The Provost News? Click here.