New Year's Baby Born Here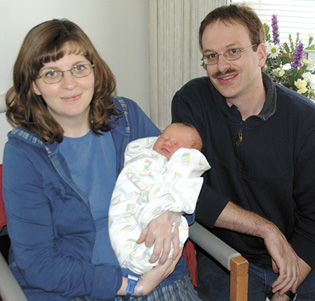 The first baby born in the Provost hospital in 2007 was little Graham Donald Goodbrand (right) who arrived here on January 9 at 8:33 a.m., and weighed in at eight pounds, 13 ounces. Parents Colleen and Chris (who has a brother living in Provost) of Coronation said this is their third child. They received well wishes and were showered by gifts from 35 merchants or businessmen from Provost. ©Provost News Photo.
Print version in January 17 edition of The Provost News.
Want to Subscribe to
The Provost News
?
Click here.

Pipeline to Increase M.D. Tax Revenue
— Extra Crude Oil Shipped Could Fill Provost Swimming Pool 196 Times Every Day
The final open house in Canada for Enbridge's Alberta Clipper and its Southern Lights Pipeline projects was held in Provost on Tuesday evening, January 9 in the Alberta Room.

The Alberta Clipper is a proposed new crude oil pipeline that will run through a major portion of the Provost M.D. 52, beginning at the extreme western boundary, running just south of Provost and on to Superior, Wisconsin providing Alberta oil sands producers with additional transportation capacity to U.S. Midwest and Eastern Canadian markets.

Senior advisor of communications for Enbridge Pipelines Inc., Gina Gottenberg was one of several staff at the public meeting (the last of 12 such information sessions) in the hall in Provost. She told The Provost News in an interview that an application will be filed with the National Energy Board the end of this month for the Southern Lights project while the Alberta Clipper project application will be filed by the end of March. Public hearings may then be called for in the summer or fall with construction planned for a year from now. "It does take quite a bit of time" to go through the processes, said Gottenberg.

Enbridge Pipelines Inc. is a subsidiary of Enbridge Inc., a Canadian company that specializes in energy transportation and distribution, operating the world's longest crude oil and liquids transportation system.