Cow-nting the Seconds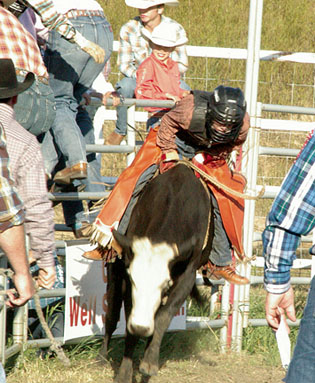 Thirteen year old steer rider Clint Laye of Cadogan was one of Canada's top 28 competitors who tried to stay aboard a Brahma cow for at least eight seconds at the Cadogan rodeo grounds on Thursday night, August 23. Winner of the invitational event was Kindersley, Sask. rider Dakota Buttar. Competitors arrived from B.C., Alberta and Saskatchewan. Local organizers said that 30 riders were hand-picked and invited to this second annual event. ©Provost News Photo.
Operation of Czar School in Question
The Czar School is still open, but as of Friday afternoon, August 24 there were no known students registered there for the coming fall term.

Deputy superintendent of Buffalo Trail Public Schools Bob Allen told The Provost News in a telephone interview that normally students would have been registered at the school by this time.

He says the school division will "staff accordingly" and there will be certified teaching staff present on the first day of school, Tuesday, September 4.

If no students appear for class it's likely the school division would follow a process governed by the Government of Alberta's School Closure Act.

If only one or very few show up for classes, the school board's superintendent, Nancy Spencer-Poitras would assess what would be in the best interest of the student(s) from an academic and social point of view, says Allen.

On the last day of classes in June at the Grades 1 to 6 school approximately 12 students were in attendance while there were two full time teachers and a teacher assistant/secretary.

Local school board trustee Dave Nelson said on August 24 that he also did not know of any students registered at the school and noted that staff will be there for the first day but it "sure doesn't look like it will operate."

He said it would be a "lengthy process" to close the school.