Workers—With Energy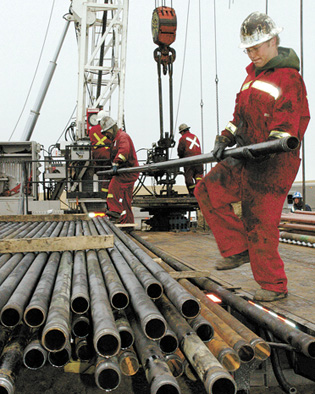 Workmen have been on the job through changing weather conditions nine miles north of Hayter and two miles west of the Alberta-Saskatchewan border where two pads were being drilled for Calgary-based Harvest Energy. Nearby to the south the energy firm was busy drilling on another pad. According to the Canadian Association of Oilwell Drilling Contractors (CAODC) latest count on October 17 there were 356 rigs drilling in Alberta (with another 280 rigs not working because of being in transit or other temporary reasons), while Saskatchewan had 61 rigs running, B.C. 47, NWT none and Manitoba three. In this picture, men are lifting and then stacking pipe just east of the Marjorie Hager residence. President of CAODC, Don Herring told The Provost News in a telephone interview that it will be slower than expected for a couple of months for drilling but then it will be back to typical activity during the winter and it "should be very busy this spring." Although the slower activity is a reflection of lower natural gas prices Herring says the industry is not concerned, adding that it would have been the busiest year on record had not lower activity appeared in September. "It will still be a remarkable year." In the third quarter there were 9,600 people working on rigs in Alberta—like the men seen here. For every rig running, there are another 50 or so people with specialty services on location—some all the time and some present periodically. Each drilling operation has three crews—two at work and one at rest and typically those people are two weeks on the job followed by a week off. Herring, whose trade association represents drilling and service rig contractors throughout Canada says that there are lots of years left at places like Provost for drilling activity. ©Provost News Photo.
---
Public Input Sought for New Rec. Building
A Sherwood Park firm has been hired to conduct a detailed study for a proposed new multi-use indoor recreation facility in Provost.

One of the components of Paul Conrad & Associates's work will be to gather information from town and M.D. residents who are expected to use the new facility, which at one time was pegged at costing approximately $14 million.

Chief administrative officer of the Town of Provost, Terry Hurlbut says some questions will likely be sent out to Provost residents with their water bill later this week. There are an estimated 800 to 900 water bills that will include a questionnaire that the town wants returned. Questions will also be sent to residents who live in this part of the M.D. 52 who would be expected to use such a facility if it is built.

Paul Conrad of Paul Conrad & Associates told The Provost News in a telephone interview that he has been hired to create a feasibility study and a business plan. "We are going to do a lot of consultation."

Part of that consultation will involve studying the existing physical condition of facilities in town "that may be declining" and also determine the spaces or new areas the public will use and support.

In addition to the public survey there will also be a comprehensive survey created for community organizations that provide facilities, programs and services.

"I'm hoping to get most of the (initial survey replies) input before Christmas."

Conrad wants to have approximately (at a minimum) 25 percent of the public reply to the survey and is looking for a "level of validity" accurate 19 times out of 20, plus or minus 1.89 percent . . ."that's the ideal world."

The firm will also be expected to develop a facility concept that accurately reflects the input from the one or two page questionnaires.

But, he points out that the concept first presented may not be what's ultimately constructed because of financial considerations. Usually the first plan presented is beyond the community's financial capability. That's typical, says Conrad so then the project moves from the concept to a functional stage plan and stakeholders are brought in to help design the facility. His job is to ensure the public has been given the opportunity to have input into the process and that it's "a valid level of input."


The community will also receive a capital cost impact and operating model including costs of operation and sources of revenue. Conrad, who has been doing this type of work for 10 years, says that plans will then be designed for the facility in a financially sustainable manner.

Conrad says he does not want the community to get stuck with a huge capital deficit and wants local people to know all the operating costs before they get into the project. He will lead the entire process, including design, engineering, architectural work, demographics and more . . ."I am the point of the spear."

In addition to the public surveys there will be face to face interviews with elected officials and two open houses are now being planned. At the first open house the results of the survey will be available and at the second, there will be displays of the facility with conceptual drawings and capital costs shown. Operational costs would not be known at that time.

Hurlbut says that the location for the proposed facility is yet to be determined but suggested it could be north and east of the curling rink; south of the fire hall (a "tight fit"); west of Hillcrest Lodge; or where the arena and swimming pool now operate (but that would likely mean giving up a season of use of those facilities). Conrad however will be called on to give his views on location and will stipulate why the building would go in a certain place and why it should not go in other areas.

Rest of story in October 25 edition of The Provost News.
Want to Subscribe to The Provost News? Click here.