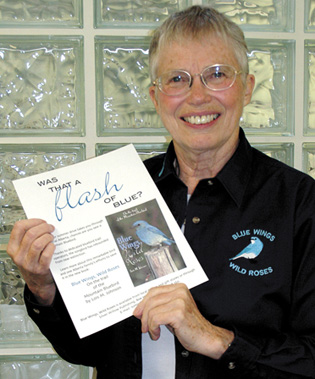 Local Woman Publishes Book About
Bringing Back the Bluebird
Author Lois Johnson: "Blue Wings, Wild Roses—On the trail of the Mountain Bluebird" . ©Provost News Photo.
---
A Dream Come True
Roger and Lois Johnson's goal was to re-establish the Mountain Bluebird in the land they learned to love. Their story is chronicled in a new book "Blue Wings, Wild Roses—On the trail of the Mountain Bluebird" by Lois Johnson. The 128 page soft cover book, available at local nature and gift stores or from the publisher, attests to this dream and to the success of the 350 house Johnson Bluebird Trail near Provost.

More than 10,000 bluebirds have fledged from these nestboxes, a remarkable natural success story. Many have returned to Alberta, including Provost and Macklin areas, in spring to nest and enrich a widening area with their vibrant flashes of blue. As master bird banders, Roger (who has passed away) and Lois Johnson have collected a vast amount of data on this enamoured bird.

"Blue Wings, Wild Roses" is not only the story of the Mountain Bluebird, but of a prairie family and their compassion for the wild. Bird enthusiasts, indeed all nature lovers, will share this unforgettable adventure about the Johnsons and their bluebird trail winding through Canada's prairie and parkland.

Lois has a regular column in The Provost News. Articles on her work have also appeared in Classroom: the Scholastic magazine for Canadian Teachers; Canadian Nature Federation's Almanac in Nature Canada; The Edmonton Journal; American Birds; Lake Region Naturalist (Florida) and Environment News.