A Hobby That Lets You Chill Out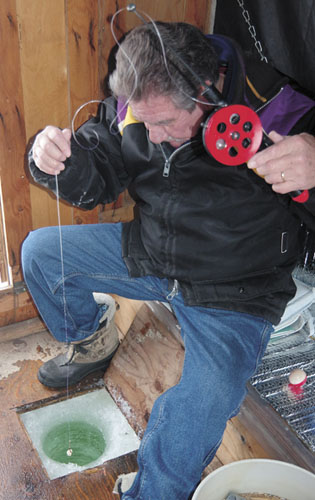 Don Annable of Cadogan lowers bits of shrimp into the ice cold waters of Capt. Ayre Lake while inside his shack. The fishing season for this man is usually best before mid-December and will last "until it gets too warm or before the end of March for sure." Asked how the fish taste, Annable replies that "I really like them." ©Provost News Photo.

More photos in the January 31, 2018 print edition of The Provost News.
Want to Subscribe to The Provost News? Click here.
More pictures, stories can be found in the print edition of The Provost News, January 31, 2018 including:
• Transformer Damaged Near Hayter

• Town to Look at 'Affordable and Small Housing' Planning

• Many Babies of 2017 Featured
• Letters to the Editor Comment on NDP MLA Statements
• Employment/Careers

• New Leader of Saskatchewan Party, Scott Moe to Become Premier

Get details of these and other stories by subscribing to The Provost News Click here or call 1-780-753-2564.