Fun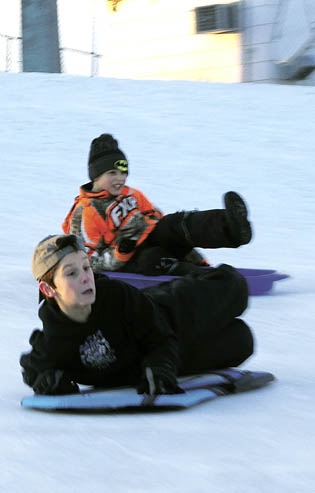 These boys make a fast descent down an icy hill on their sleds before making another trek up the slope for another ride down just north of Provost Public School on Thursday afternoon, January 18. ©Provost News Photo.

More photos in the January 24, 2018 print edition of The Provost News.
Want to Subscribe to The Provost News? Click here.
More pictures, stories can be found in the print edition of The Provost News, January 24, 2018 including:
• Fraud and Mischief Down—Motor Vehicle Injuries and Assaults Up, Provost RCMP Figures Show

• Number of Babies Born in 2017 at Health Centre—Same as Previous Year

• New RCMP Constable Pictured on First day of Career
• Over Half of Intersection Fatalities in Rural Areas
• Employment/Careers

• M.D. 52 Council Plans More Chipseal Overlay Roadwork

Get details of these and other stories by subscribing to The Provost News Click here or call 1-780-753-2564.