Field Work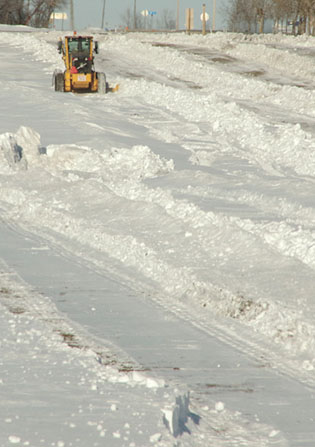 A grader makes tracks in a farm field on Friday afternoon, January 12, just south of Highway 13 at Provost's northwest edge of town. The rows of snow were being piled up in case of further snow or strong winds that could cause drifting from the west onto the nearby street in Provost. The field had earlier been graded for similar reasons but the ridges became worn and progressively smaller so were re-graded to make them taller again. The farmer will likely have more moisture retained on this part of the field in the spring. ©Provost News Photo.

More photos in the January 17, 2018 print edition of The Provost News.
Want to Subscribe to The Provost News? Click here.
More pictures, stories can be found in the print edition of The Provost News, January 17, 2018 including:
• New Year's Baby Arrives at Provost Health Centre

• Man Celebrates 101 Years

• Volunteer Students Lead Province in Fundraising Program for Canadian Cancer Society
• Letter Writer Wants Government That Stays Out of Debt, Holds the Line on Taxes and Leaves People Alone
• Employment/Careers

• Woman Enters 25th and Final Year as Volunteer Pastor in Ribstone

Get details of these and other stories by subscribing to The Provost News Click here or call 1-780-753-2564.