Donations to Candy Cane Lane
Double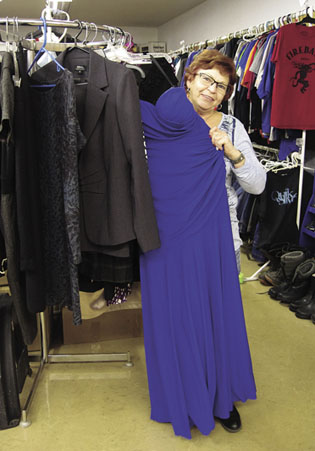 Manager and volunteer Kathy Swancoat shows off one of the dresses for sale at Candy Cane Lane in downtown Provost. Story in the print edition. ©Provost News Photo.

More photos in the January 10, 2018 print edition of The Provost News.
Want to Subscribe to The Provost News? Click here.
More pictures, stories can be found in the print edition of The Provost News, January 10, 2018 including:
• Candy Cane Lane Experiencing Doubling of Donation Drop-offs

• 185 Males and 150 Females Living in Chauvin, According to Census

• Over 60 Years Ago Paved Main Street Celebrated
• Hughenden Jets First in Sr. Hockey League
• Employment/Careers

• Ice Surrounds Trees

Get details of these and other stories by subscribing to The Provost News Click here or call 1-780-753-2564.