No Injuries in Duplex Blaze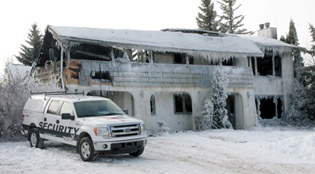 Firemen were on the scene in Provost on 54 Avenue after being called at approximately 5:45 a.m. on Saturday, February 3. Fire chief Barry Johnstone told The Provost News that the house was not occupied at all and also that he did not know the cause of the fire. This shows the scene east of the Participark on Monday afternoon, February 5. Johnstone said the building was fully engulfed when they arrived and it took approximately two hours to get the blaze under control and "another four hours to get the hot spots out." ©Provost News Photo.

More photos in the February 7, 2018 print edition of The Provost News.
Want to Subscribe to The Provost News? Click here.
More pictures, stories can be found in the print edition of The Provost News, February 7, 2018 including:
• Total 390 Wells Drilled in Vast Provost Field Last Year

• No Injuries in Duplex Blaze

• Letter Writer Comments About Fluoridation of Town Water
• Teachers Take in Learning Session
• Employment/Careers

• NDP Carbon Tax Hitting Alberta Farmers, Ranchers Hard, Say Two MLAs.
• Provost & District Fish and Game Association Hosts 37th Annual Awards Night

Get details of these and other stories by subscribing to The Provost News Click here or call 1-780-753-2564.