We're Back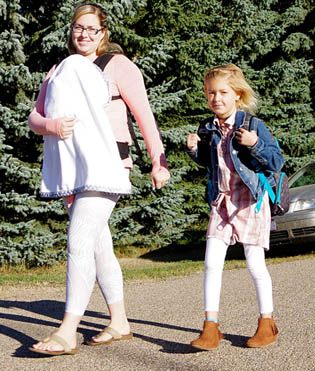 Shayanna Janzen at right carrying her backpack of supplies walks with mom Brianne on the first day of classes at Amisk School on Tuesday morning. Shayanna, at seven and one half years old is now in Grade 3. Brianne meanwhile holds little Barrett, who is seven weeks old in a blanket, as classes neared for thousands of students across the nation on September 5, 2017. ©Provost News Photo.

More photos in the September 6, 2017 print edition of The Provost News.
Want to Subscribe to The Provost News? Click here.
More pictures, stories can be found in the print edition of The Provost News, September 6, 2017 including:
• Energy Companies Target of Damage, Theft

• M.D. Clear of Rat Infestation Says Pest Control Officer
• Entrepreneurs Selling Fresh Iced Tea
• Former Provost Man Earns Plumbing Award
• Girls on Team with Bronze Win in Western Canadian Softball
• Employment/Careers

• Enbridge Invests in Line 3 Replacement Right-of-Way Communities

Get details of these and other stories by subscribing to The Provost News Click here or call 1-780-753-2564.