It's A Sweep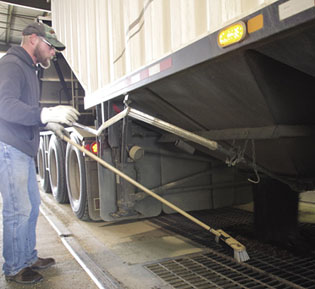 Driver Kevin Kelts of Consort delivers farmer Rick Kelts's (also of Consort) canola to Richardson Pioneer near Provost on Friday, September 22. He uses a broom to ensure the crop gets directed into the grate below. The approximate 2,000 bushels of crop will be loaded onto railway cars and sent to either local or international markets. Harvest story in the print edition. ©Provost News Photo.

More photos in the September 27, 2017 print edition of The Provost News.
Want to Subscribe to The Provost News? Click here.
More pictures, stories can be found in the print edition of The Provost News, September 27, 2017 including:
• Provost RCMP Recover $650,000 Worth of Stolen Property During Two Investigations

• Police Arrest Father, Son After Suspicious Vehicle Reported
• Two Females Face Charges After Stolen Property Found
• Showers Stop Harvest, But 80% in Bin
• Daycare Celebrates New Home
• Employment/Careers

• MD 52 Uses Tonnes of Gravel

Get details of these and other stories by subscribing to The Provost News Click here or call 1-780-753-2564.