Easy Riders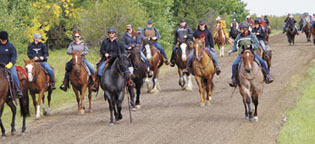 There were three wagons with 11 people in the wagons and 37 horseback riders taking in a trail ride, Saturday, September 16. This photo show some of those taking part shortly after they left Metiskow. The oldest horseback rider was 74 years old and the youngest was eight while the oldest couple that rode in a wagon was Bill and Fern Roadhouse from Evesham, Sask. There were local riders as well as from Coronation, Consort, Hardisty, Edmonton, Vermilion, Edgerton, Unity and points in between. After the ride, 88 people enjoyed a steak supper. Wilma Halvorson said that it "was a great day and all our funds from the trail ride are going to replace the sidewalk going into the Metiskow hall." The trail was about 16 miles long and participants rode south of Metiskow to Metiskow Lake (or Sunken Lake as on the map), around the lake and back in a circle, returning to the hall just in time for the 5 p.m. supper. ©Provost News Photo.

More photos in the September 20, 2017 print edition of The Provost News.
Want to Subscribe to The Provost News? Click here.
More pictures, stories can be found in the print edition of The Provost News, September 20, 2017 including:
• Town, M.D., School Board Election Races On

• Fireman Len Kjos Remembered in Ottawa
• Gibsons Gives $200,000 to Hardisty for Rec. Upgrades
• STA School Students Presented with Awards at Ceremony
• Gibsons Plans 1.1 Million Barrel Hardisty Terminal Expansion
• Employment/Careers

• Football Games Hosted in Provost

Get details of these and other stories by subscribing to The Provost News Click here or call 1-780-753-2564.