Concrete Results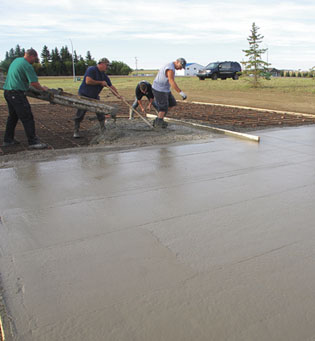 Workmen were on the job first thing Monday morning, September 11 pouring concrete for a new 1800 square foot (30 feet by 60 feet) basketball court in the Paulgaard Estates area near the southeast edge of town. The court will be part of a new playground development nearby. Enbridge donated $35,000 for this project (see PN August 23). Some holes will be drilled later this week for basketball hoop posts and on September 21 and 22 other playground equipment will be installed. Recreation director Jack McKinlay said that the new court could also be used for street hockey. ©Provost News Photo.

More photos in the September 13, 2017 print edition of The Provost News.
Want to Subscribe to The Provost News? Click here.
More pictures, stories can be found in the print edition of The Provost News, September 13, 2017 including:
• 9 Year Old Trick Rider Qualifies for North American Competition

• TransCanada Re-examining Energy East
• Enbridge Donates Cash to Hardisty and Macklin
• Drought to Continue Wildfire Risk in Prairies—Forecast
• If it's Older Than I Am, It's "Old;" If it's Twice My Age, It's an Antique—Columnist
• Employment/Careers

• New Benches, Planters, Recyling Bins Installed Downtown

Get details of these and other stories by subscribing to The Provost News Click here or call 1-780-753-2564.