Cosmic Display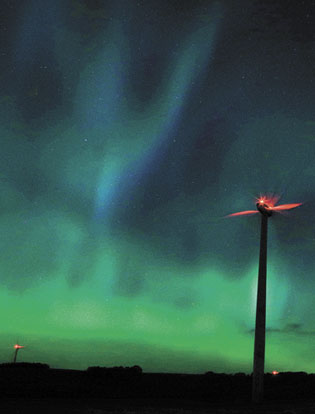 At first glance this image may remind some people of a science fiction scene where visitors from distant stars appear in red saucer-like vehicles, but it is an entirely natural phenomenon, courtesy of Mother Nature. The Northern Lights are shown illuminating the sky high up and beyond several wind turbines northeast of Provost—with this image revealing a limited view of some tines as they whirl near aviation lights in the normally dark sky. Some of the wonder-lights appeared in the north, east, south, overhead and towards the northwest on Thursday morning, Sept. 28, 2017. The aurora can be seen from the ground on occasion in northern countries like Canada—and also observed above the clouds by scientists 250 miles up in the International Space Station. This image was captured at 2:02 a.m. on September 28. Shutter speed: 11 seconds; F-stop 7.1; ISO 1600; tripod; no strobe. ©Provost News Photo.

More photos in the October 4, 2017 print edition of The Provost News.
Want to Subscribe to The Provost News? Click here.
More pictures, stories can be found in the print edition of The Provost News, October 4, 2017 including:
• Enbridge Pipeline Construction Seen Progressing North of Metiskow

• Alberta Shale Region Assessment Finds Significant Quantities of Light Oil, Natural Gas and Natural Gas Liquids
• Letter Writers Send Comments
• Nutrients from Lagoon Spread Onto Field
• MP Sorenson Writes About 'Liberal Tax Grab on All Local Businesses'
• Employment/Careers

• Candidates Running for Public Office

Get details of these and other stories by subscribing to The Provost News Click here or call 1-780-753-2564.