Ken Knox Finishes 30 Years as Mayor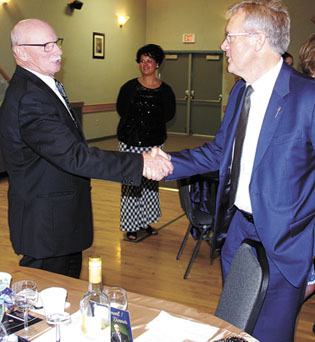 MLA Wes Taylor shakes hands with ex-mayor Ken Knox (left) at the end of an evening that marked the mayor serving 30 years. Story in the print edition. ©Provost News Photo.

More photos in the October 25, 2017 print edition of The Provost News.
Want to Subscribe to The Provost News? Click here.
More pictures, stories can be found in the print edition of The Provost News, October 25, 2017 including:
• Light Agendas for M.D. Council Meetings

• Ex-Mayor Knox Thanked by Community After Serving 30 Years
• Small Business Is Big Business
• Enbridge Shows How the Inside of Pipe is Welded
• Chauvin Firefighters Demonstrate to Students, Watch Fire Drill
• Employment/Careers

• Approximately 37 Percent of Eligible Provost Voters Cast Ballot

Get details of these and other stories by subscribing to The Provost News Click here or call 1-780-753-2564.