Clean Sweep of Golden Leaves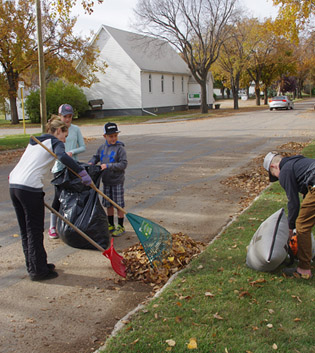 It was a holiday from school on Friday but mom made sure that her children were still being productive by cleaning up leaves—not only from their lawn out front—but also the paved street nearby. From left, during noon hour: Lindsay Varty (with rake and shovel) along with Autumn, age 11, Kobin, 9 and far right Hudson, 13 who was operating the leaf blower. ©Provost News Photo.

More photos in the October 11, 2017 print edition of The Provost News.
Want to Subscribe to The Provost News? Click here.
More pictures, stories can be found in the print edition of The Provost News, October 11, 2017 including:
• End of Energy East Proposal Means Loss of Jobs—MLAs

• Fire Prevention Week Observed
• Football Action as Rimbey Visits
• Halls Foods Re-opens With Zahid Mehmood and Arain Mohammud
• Lucie Trutnau Says We All Have the Occasional Twillick
in Our Lives
• Employment/Careers

• Old Timer Wrote in 1928: 'I Heard That the Surveyors Were Surveying the Town Site'

Get details of these and other stories by subscribing to The Provost News Click here or call 1-780-753-2564.