New Constituency Proposed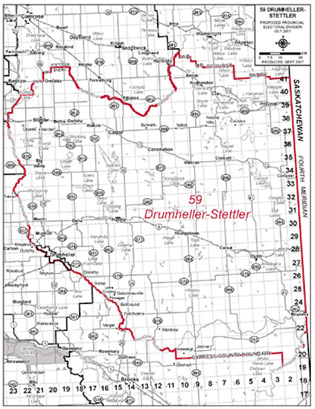 A map illustrates the proposed size of the Drumheller-Stettler constituency which would include Provost, Drumheller and Jenner. Story in the print edition.

More photos in the November 8, 2017 print edition of The Provost News.
Want to Subscribe to The Provost News? Click here.
More pictures, stories can be found in the print edition of The Provost News, November 8, 2017 including:
• Average Age in Provost is 39.

• New 'Dramatic Changes' Would Place Local Voters into Expanded Drumheller-Stettler Constituency
• Firefighters Remember Man With Memorial Bench
• Forecast for More Drilling
• 375 Pounds of Food Collected at Halloween 'Zombie House'
in town.
• Employment/Careers

• Chauvin Collects Food

Get details of these and other stories by subscribing to The Provost News Click here or call 1-780-753-2564.