Colourful Cousins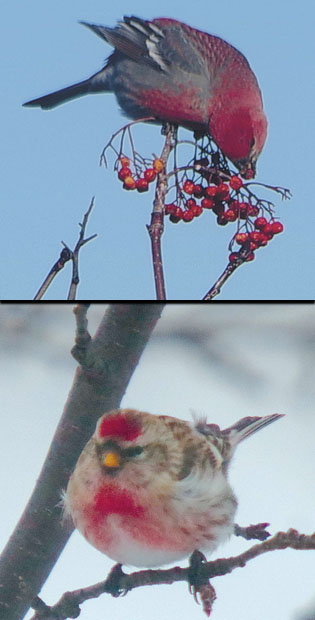 A bird with red on the top of its head and back and also in front (top) picks out a mountain ash delicacy as it and two others stop to eat out for less than five minutes before they vanish. The pine grosbeaks dwarf others in the finch family. Males are the most colourful while females are mostly brown or grey. Photo bottom meanwhile shows one of the smallest members of the finch family, the tiny common redpoll which appeared five days after the larger bird. The redpoll weighs between 0.42 and 0.56 ounces and typically eats 40 percent of its body weight in seeds daily to keep itself alive. ©Provost News Photos.

More photos in the November 29, 2017 print edition of The Provost News.
Want to Subscribe to The Provost News? Click here.
More pictures, stories can be found in the print edition of The Provost News, November 29, 2017 including:
• Olaf Erasmus Scores Rugby Points; Performs Humanitarian Work in Columbia

• Drillers Make Prediction
• 83 Drug Related Charges at Lloydminster

• 'Earmarks of a Site-to-Site Crime Spree'
• Hughenden Jets Leading Sr. Hockey League
• Employment/Careers

• Heavy equipment works northeast of Czar as the trench containing the new Enbridge Line 3 replacement pipeline is covered in and smoothed out with top soil.

Get details of these and other stories by subscribing to The Provost News Click here or call 1-780-753-2564.