I've Got Him in My Sights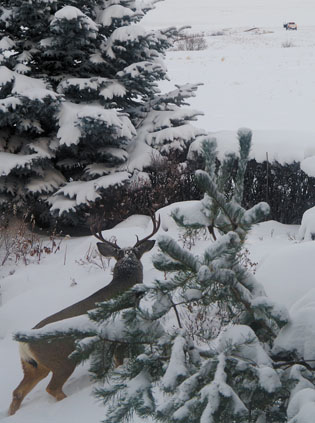 A driver gets out of a truck (top right) and looks north toward a coulee—likely for deer—while an antlered animal gets a good peek towards the east from behind cover as a friend is nearby. The animal on first hearing the truck in the area had been outside of the hedge but ran to the inside to see safely what was taking place. The hunting the hunter action took place on November 17 northeast of town. ©Provost News Photo.

More photos in the November 22, 2017 print edition of The Provost News.
Want to Subscribe to The Provost News? Click here.
More pictures, stories can be found in the print edition of The Provost News, November 22, 2017 including:
• TransCanada to Study Approval for Alternate XL Pipeline Route

• 35 Occupied Private Dwellings in Hamlet of Hayter—Census
• Local Farm Family Recognized at Northlands

• Poor Children to Receive Gifts
• 3-Way Tie For First in Sr. Hockey League Action
• Employment/Careers

• Snowflakes Pile Up

Get details of these and other stories by subscribing to The Provost News Click here or call 1-780-753-2564.