Making the Grade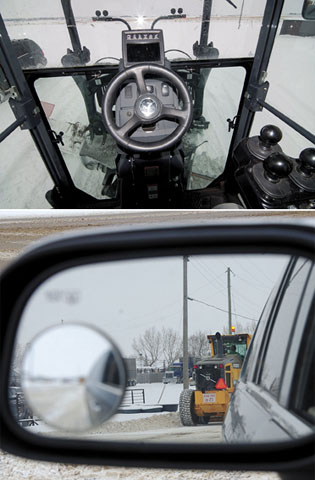 If you're in the driver's chair of an M.D. Provost No. 52 grader this is the view (top) you'd get while clearing snow at the airport—or on other rural roads. The model 872 GP 43-164 has eight speeds, uses a six-wheel-drive configuration and has 300 horsepower available. Photo above meanwhile shows a Town of Provost grader after a recent snowfall with Keith Heintz at the controls as seen via a vehicle's mirror. ©Provost News Photos.

More photos in the November 15, 2017 print edition of The Provost News.
Want to Subscribe to The Provost News? Click here.
More pictures, stories can be found in the print edition of The Provost News, November 15, 2017 including:
• Fire Hydrant Damaged

• Oilfield Equipment Worth $45,000 Stolen
• Community Pays Tribute to Veterans for Sacrifices
• British Roots Dominate Population Across MD
• Provost Man Competes at Rodeo
• Employment/Careers

• Bowling Centre Busy

Get details of these and other stories by subscribing to The Provost News Click here or call 1-780-753-2564.