Ken Knox Park Sign Installation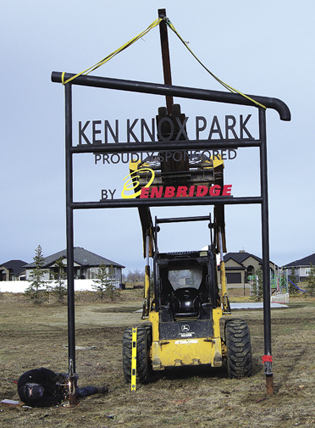 A new sign that states "Ken Knox Park, Proudly Sponsored by Enbridge" was welded into place Monday, October 30 (2017) in Paulgaard Estates in the south east of Provost. The sign comes in place after ex-mayor of Provost Ken Knox served over 30 years as mayor and Enbridge distributed $100,000 to the community (see PN August 16). The 14 foot high by 8 foot wide sign that people can walk through is near the recently installed playground and basketball court. ©Provost News Photo.

More photos in the November 1, 2017 print edition of The Provost News.
Want to Subscribe to The Provost News? Click here.
More pictures, stories can be found in the print edition of The Provost News, November 1, 2017 including:
• Student Earns Awards After Achieving 100 Percent in Courses

• New M.D. Council Sworn In
• Chauvin Team to Ride Wild Ponies at Rodeo Finals
• Kenney Leads New Political Party
• Christmas Hamper Project, Provost Ministerial Food Bank Operate Independently
• Employment/Careers

• Canadian Western Women's Discing Awards Won

Get details of these and other stories by subscribing to The Provost News Click here or call 1-780-753-2564.