The On and Off Waiting Game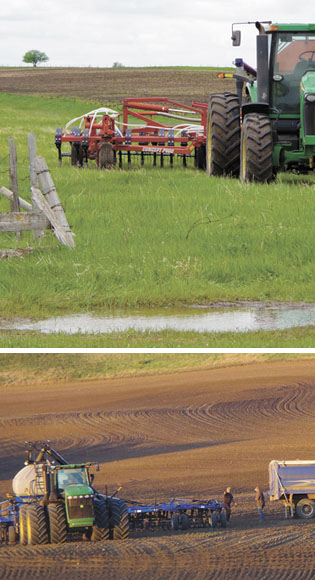 A recent half inch of rain that fell in the districts forced a time out (top) for farmers who were likely then looking at the calendar after their seeding operations were stalled. This picture was taken on Thursday, May 25 25 kilometres northwest of town. But by Saturday evening, May 27 near 9 p.m. some farmers were back on the field south of Chauvin. In the bottom photo, a farmer stepped out of his tractor to meet with a trucker who had just backed up his unit. ©Provost News Photos.

See inside the print edition of The Provost News, May 31.
Want to Subscribe to The Provost News? Click here.
More pictures, stories can be found in the print edition of The Provost News, May 31, 2017 including:
• Pipeline Construction Begins This Summer—Enbridge
• Expect Long Days of Hard Work: Chauvin Graduation Speaker
• Provost Public School Honors 31 Grade 12 Graduates
• Town's Capital Budget Nearly $2 Million
• Employment/Careers

• Man Charged With Trafficking
• Computer Parts, Special Equipment Worth $100,000 Stolen

Get details of these and other stories by subscribing to The Provost News Click here or call 1-780-753-2564.