Pink Birds Sighted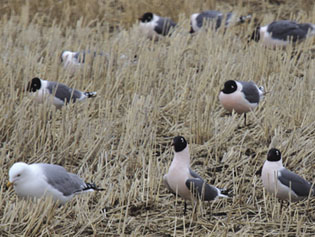 These pink-tinted Franklin's Gulls were an unusual sighting spotted in a field by the northwest corner of Provost on Thursday, April 27. Marc Devokaitis of the Cornell Lab of Ornithology in New York, U.S.A. who was sent a picture similar to this one told The News "the pink wash shows up in some birds during breeding time—probably diet related." According to the lab the birds feed on exposed worms, insects and mice; and the entire head is black during breeding season. Devokaitis said the larger white birds (bottom left) in this photo are Herring Gulls and there is "no such bird as a seagull in our world." ©Provost News Photo.

See inside the print edition of The Provost News, May 3.
Want to Subscribe to The Provost News? Click here.
More pictures, stories can be found in the print edition of The Provost News, May 3, 2017 including:
• Improvements for Main Street Taking On New Design
• Town Considers Use of Main Street Parking Stalls for Restaurant's Use
• Senlac Woman Dies in Two Vehicle Collision
• More drilling in Oil Patch Forecast
• Employment/Careers

• 'Double Taxation' Unfair Says MP in Interview
• Diabetes Expo Held

Get details of these and other stories by subscribing to The Provost News Click here or call 1-780-753-2564.