Stepping Into the Construction Zone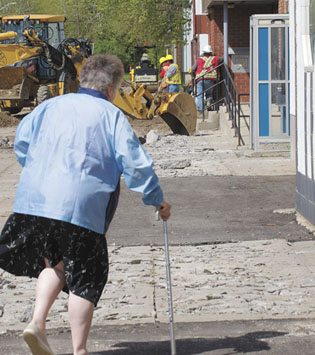 Priscilla Vass (left) navigates damaged sidewalks in downtown Provost during construction work on Thursday, May 18. Other photo (in print edition) meanwhile shows some of the progress on the east side of Main Street on Tuesday morning, May 23 as the second phase of infrastructure is taking place. ©Provost News Photos.

See inside the print edition of The Provost News, May 24.
Want to Subscribe to The Provost News? Click here.
More pictures, stories can be found in the print edition of The Provost News, May 24, 2017 including:
• New United Conservative Party Proposed in Alberta
• Town Covers Over Graffiti on Sports Grounds Buildings
• National Award for Bull Creek Wind Project North East of Town
• M.D. Council Conducts Two Meetings
• Employment/Careers

• Track and Field Events at School
• Larger Display Case for Military Memorabilia

Get details of these and other stories by subscribing to The Provost News Click here or call 1-780-753-2564.