Will There be Seconds?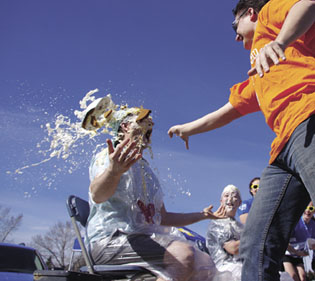 Eryn White of Provost gets a faceful from Jeffery Peterson who was so close that he couldn't miss during a fundraising event on Provost Public School grounds Friday morning, May 5. The Relay for Life event was set up by Jessica Enzenauer and Sara Paulgaard along with helpers to raise money for cancer research. Near the bottom of the picture, Elyscha Kleinsasser can be seen after she too enjoyed dessert. Story in the print edition. ©Provost News Photo.

See inside the print edition of The Provost News, May 10.
Want to Subscribe to The Provost News? Click here.
More pictures, stories can be found in the print edition of The Provost News, May 10, 2017 including:
• Over $38,000 Pledged, Donated to Cancer Research and Services at Provost's Second Relay for Life
• Upgraded Cemetery to Include Area for Urns, Monuments
• New Sign Installed at Pleasant Ridge Cemetery
• Burnt Garbage Found in Ditches
• Employment/Careers

• Town of Provost workers work on bricks for removal before the second phase of construction begins for the Main Street revitalization project (see PN May 3).
• Hughenden and Irma Schools Visit Canadian Blood Services

Get details of these and other stories by subscribing to The Provost News Click here or call 1-780-753-2564.