World Day of Prayer Service Held,
Focus on Filipino Women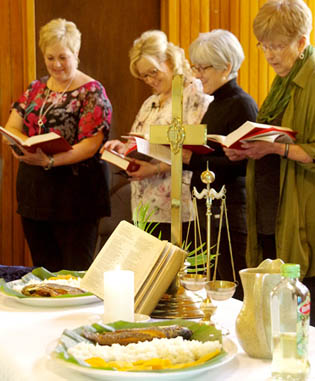 Women at the front of Central Lutheran Church sing a hymn with the congregation at a World Day of Prayer service held at Central Lutheran Church on Friday afternoon, March 3. Pictured from left: Donna Paulgaard Johnston, Darlene Downing, Susan McElhinney and Pat Skinner. Story in the print edition. ©Provost News Photo.

See inside the print edition of The Provost News, March 8.
Want to Subscribe to The Provost News? Click here.
More pictures, stories can be found in the print edition of The Provost News, March 8, 2017 including:
• Over 10.1 Million Barrels of Crude Oil Pumped From Provost Field in Year
• Hughenden Jets Hockey Club Still Undefeated
• 5 Die in Crash
• Employment/Careers
• World Day of Prayer Celebrated Here

• Socialists Don't Get It Says Columnist
• NDP Carbon Tax Costing Albertans More For Showerheads and Light Bulbs

Get details of these and other stories by subscribing to The Provost News Click here or call 1-780-753-2564.