Top Team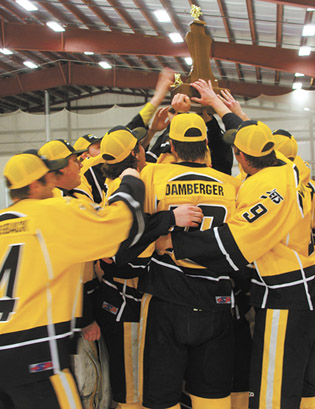 Players from the championship Hughenden Jets get their hands on the trophy after winning first place in the East Central Senior Hockey League by defeating the Forestburg Flyers on Saturday night, March 25. The Jets won this game 7-3 in Forestburg. Story, more photos in our print edition. ©Provost News Photo.

See inside the print edition of The Provost News, March 29.
Want to Subscribe to The Provost News? Click here.
More pictures, stories can be found in the print edition of The Provost News, March 29, 2017 including:
• Pipelines Should Have Been Built Decades Ago—Hardisty Deputy Mayor; KXL Construction Closer as TransCanada Gets U.S. Presidential Permit
• Hughenden Jets Best in East Central Senior Hockey League For Second Year in Row
• 'I Shopped Locally and I Liked It' Says Hughenden Author
• Employment/Careers
• New Blinds, Cleaning Machine Donated by Kinsmen for Crescent Point Place

• Curlers sweep at the curling mixed funspiel on Friday evening, March 24. The theme was sports night where competitors could dress up as a sports fan or as part of their favorite team. Saturday's theme allowed curlers to wear an ugly sweater and pants.
• Amisk 4-H Club Members Advance to Regional Speak-offs

Get details of these and other stories by subscribing to The Provost News Click here or call 1-780-753-2564.