Celebrating Begins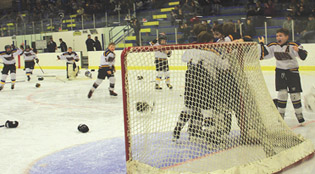 Provost Blades Atom C hockey players throw helmets and gloves to the ice in celebration as they begin to swarm their goalie after winning (and hosting) the provincial final championship on Sunday afternoon, March 19. The gold medalists won this match 6-1 against the Redcliff Grizzlies. Story in the print paper. ©Provost News Photo.

See inside the print edition of The Provost News, March 22.
Want to Subscribe to The Provost News? Click here.
More pictures, stories can be found in the print edition of The Provost News, March 22, 2017 including:
• Provost Woman Becomes New Centenarian
• Albertans Staring at $10.3 Billion Deficit
• Discers Busy at Metiskow and Cadogan
• Employment/Careers
• Provost Blades Hockey Team Earns Provincial Championship Title

• Surge Energy Plans More Drilling Near Provost
• Ganser on National University Winning Hockey Team

Get details of these and other stories by subscribing to The Provost News Click here or call 1-780-753-2564.